Navigating Public Health Learning: A Conversation with the De Beaumont Foundation (Part Two)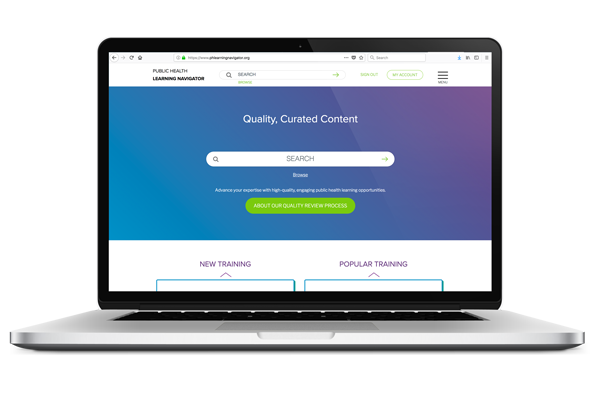 Laura Prechter, program manager for workforce development capacity building at the  National Network of Public Health Institutes and Public Health Learning Navigator project lead, spoke at length with the de Beaumont Foundation team leading learning and workforce development efforts–Katie Sellers, executive vice president; Adam Judge, senior learning officer; and Samantha Cinnick, program officer, workforce development–about the Public Health Learning Navigator and how they see the tool support learning across the public health workforce. 
Part two of their conversation has been condensed and lightly edited for clarity. To read part one of their conversation, click here. To explore the Learning Navigator and start building critical public health skills, click here.
---
Laura Prechter:
How do you see the Learning Navigator fitting into de Beaumont Foundation's overall investment strategy?
Katie Sellers:
I think one of our unique strengths in this particular field—governmental public health workforce development—is that we are non-governmental. And because we are a funder, what we can do is kind of see what others are doing. I mean, the federal government is going to do what Congress tells it to do. Right? And it's going to fund other nonprofits who need to get funding to do certain things as Congress directed and as CDC or HRSA interpreted that direction. But what de Beaumont can do is kind of look at what's being done and see where the gaps are and jump in and say, you know, this needs to be lifted up.
I feel like the Navigator is a really good example of that because NNPHI was able to put together something of great value to the field, and when de Beaumont saw that it needed more partnership and more support to really come to fruition and really fill that gap in a robust way, we were able to do that. We look at the overall workforce and see what's being done at the federal level and through the associations and find the gaps. The Navigator was a great opportunity for us to be able to jump in and make something really important happen in a way that is of great benefit to the field.
Adam Judge:
From my point of view at de Beaumont—One of our goals from the time I first joined the foundation was to try to find ways to improve the overall quality of public health training and education. The Navigator is a very concrete step towards meeting that goal. That's why I think our support is a really good thing.
Samantha Cinnick:
I guess the only other thing I would add is that de Beaumont is very interested in making sure that programs think into the future about where they want to go and where they want to be, how to sustain their work, so that it's really influential for a long time. We're hoping that the Navigator is something, with some planning, that can be sustained over the long-term.
Laura Prechter:
Thinking about the challenges that we've seen in light of the COVID-19 pandemic, delivering quality training at the right time to the right people, it's sort of been emphasized and highlighted as a workforce need. Can you each talk a little bit about how you see the importance of online learning and the future of the public health workforce and then how the Navigator might help as a tool for helping challenges like the one we are currently facing?
Katie Sellers:
Part of what makes the Navigator unique is that it doesn't rely on that categorical funding. So, it doesn't only have training for chronic disease or training for maternal and child health, it has all the different topics. And, it is curated and easy to find, and it has that quality check. So, I think to me, it's kind of the combination of those things. And, then add to that, it's really responsive to the needs of the public health system. Because it doesn't have that sort of categorical mandate that it has to be XYZ training. It's more able to lift up the training that is needed by the field at any given time.
Adam Judge:
The goal of finding the right online learning is to get what you need when you need it, where you need it. And to know that it's time well spent, and that's what the Navigator provides. Especially when people have to learn new skills in a hurry, being able to find the right course without having to sift through a lot of other material is important. That level of efficiency is something that the Navigator brings that I don't think people can find anywhere else.
Sam Cinnick:
A really great example of this, Laura, you had asked me to work on that COVID-19 quick environmental scan for the Navigator, and I was amazed at how quickly you were all able to get those from academic institutions and public health training centers together to go through all of these different training providers to find the trainings that people in public health agencies needed, review them quickly, and get them on to the Navigator. I think that's a real strength of the Navigator. If there are other crises, which there are bound to be, you can pull together those networks and very quickly mobilize people who want to help, who might not be right there in the action of that crisis and can provide a real service to those who need training.
Laura Prechter:
What do you hope happens with learning and training for the public health workforce overall and how might the Navigator fit into that picture?
Katie Sellers:
I really hope that we continue to build more and more robust, easily accessible, anytime kind of training that is available to everyone across the public health workforce, no matter where they are. So, it gets more standardized, it gets more available, it gets more high quality and can more quickly respond to the needs of the public health system. And, I think the Navigator plays an incredibly important role in that because that's exactly what it's doing. And so, I think if, as long as it can continue to expand and thrive and make more and more of those really high-quality trainings available to the field, that will really strengthen the field and really improve the health of the country and make us better able to respond to future crises that we have, like this one.
Adam Judge:
The curation model that the Navigator uses. I'd like to see that applied to other content types, not just to e-learning. And I would very much like to see that applied to other fields, outside of just public health workforce development. I think that the kind of filtering the Navigator's review structure provides is really, really useful. It cuts through a lot of the chaff, and it makes accessing the content much more usable for the learners, the end users.
Samantha Cinnick:
I also really liked the curation model of the Navigator, and I wonder if it can go even more steps further to help public health agencies with their workforce development planning, both with technical knowledge challenges their employees are facing as well as adaptive and complex challenges—things that are really tough to figure out. I wonder if there are ways to assist in and make the connection between the online technical training and real world challenges that public health agencies are facing.
Laura Prechter:
The de Beaumont Foundation has a pretty in-depth understanding of the future needs of the workforce. And specifically, I'm thinking about attrition related to burnout and retirement here, which I think is a pretty important on the heels of COVID-19 and a lot of the issues that we're dealing with now. How do you see online training, maybe particularly the Navigator, but online training, more broadly responding to those kinds of needs?
Katie Sellers:
A couple of things come to mind for me. One is training for managers to help them mitigate the burnout among their staff. That's one thought. And, then the other thought is, I am concerned about all of the public health workers leaving, but I also see raising visibility of public health. I see early career folks being inspired by the mission of public health. I'm really hoping that more of them will choose public health as a career and that the high quality training to help get them up to speed for their first job or their second job in a health department will be there for them and help them get onboarded and moving and able to dive into the work that inspired them in their choice to come to a health department to begin with.
Adam Judge:
Hopefully it be much faster to develop useful training and much easier, much faster to access it. A lot of what we put out in terms of training education is still very academic, very formal. I think it'll make it easier for the workforce to get what they need, which then proceeds to being more satisfied, fulfilled, and effective in their jobs.
Samantha Cinnick:
I think something that's promising from PH WINS, is that a lot of employees are actually really engaged. I believe 95% [of public health professionals] say the work they do is really important. If you can tie the online training to this idea, this core idea that employees have—that what I do is really important and actually be gaining more skills to make sure that my work continues to be important—continues to be impactful. That will be important. And then also, how can the Navigator and the experience that an employee has, accessing that website and the training there, get tied into their organization's buildup of a culture of lifelong learning? The Navigator has a really unique opportunity to be a cool experience for public health workers to get training and better themselves. If there's a way, let's build that into an agency's organizational change and "becoming the best organization it can be."
Laura Prechter:
Is there anything else that you want to share about the public health workforce or with the public health workforce or other stakeholders about the Navigator or the value of online training in general?
Adam Judge:
The best training is the training you get when you need it, right where you need it and training that can be integrated into your regular workflow without you having to break away from what you need to do to learn what you need to learn in order to do more of what you need to do. And, the level of efficiency that the Navigator's curation, the reviews, the gradings, the ease of searching, so you don't have this sea of courses that you have to somehow find the good one in as opposed to going into the Navigator, where you can find a manageable number of objectively good courses. I think that's the wave of the future. Finding good material that you can use, but you don't have to stop doing your job in order to learn what you need to learn to do the job.
Samantha Cinnick:
People who work in public health agencies, governmental public health, they're busy. They're probably not able to review. But I'm sure there's lots of people in public health who either worked in government at some point in their lives, or they're working in a non-profit, philanthropy, or some other agency or sector. I would hope they would want to join in and help to provide reviews, so that there's training for the people who are dealing with crisis or emergencies as they come up. So, that would be kind of my call to action for people who read or listen to this: if you want to help provide training and make sure that your colleagues are getting quality training, join as a reviewer.