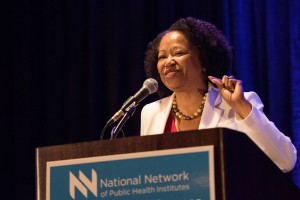 NNPHI is committed to building communities dedicated to advancing public health practice and improving population health. We create spaces and platforms for aligning multiple organizations on policy, systems, and environmental change.
Our convenings, webinars, and annual conference offer collective and interactive learning experiences for professionals within and beyond the public health field.
We have hosted more than 50 national meetings and trainings with national partners, including the Robert Wood Johnson Foundation, the Centers for Disease Control, Centers for Medicare and Medicaid Services, Health Impact Project, the Association of State and Territorial Health Officials, and the deBeaumont Foundation.
COVID-19 Update from NNPHI:
NNPHI is taking all necessary precautions to ensure the health and safety of meeting attendees in light of concerns about COVID-19. We are paying close attention to new developments and following the guidance of the World Health Organization (WHO), the Centers for Disease Control and Prevention, and health departments (state/local/tribal) responsible for protecting the public's health in event site jurisdictions.  These resources provide daily updates, recommendations, and tips on travel. As a science-driven organization, we will take necessary precautions and make decisions based on guidance, and the best interests of attendees, meeting speakers, and staff.  Should conditions and guidance change, we will be in touch promptly if and when developments occur that require further updates. The safety of our attendees is our top priority.