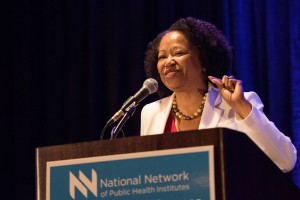 NNPHI is committed to building communities dedicated to advancing public health practice and improving population health. We create spaces and platforms for aligning multiple organizations on policy, systems, and environmental change.
Our convenings, webinars, and annual conference offer collective and interactive learning experiences for professionals within and beyond the public health field.
We have hosted more than 50 national meetings and trainings with national partners, including the Robert Wood Johnson Foundation, the Centers for Disease Control, Centers for Medicare and Medicaid Services, Health Impact Project, the Association of State and Territorial Health Officials, and the deBeaumont Foundation.
Join NNPHI and Members at the 2020 Virtual Meeting!
Engage with NNPHI and its member institutes at the 2020 APHA Annual Meeting and Expo:
NNPHI Posters and Sessions: Check out this summary document highlighting more than 70 oral presentations, poster sessions, and other sessions by NNPHI staff and the membership.
NNPHI Booth: Find us in booth 208 in the exhibit hall!