Navigating Public Health Learning: A Conversation with the De Beaumont Foundation (Part One)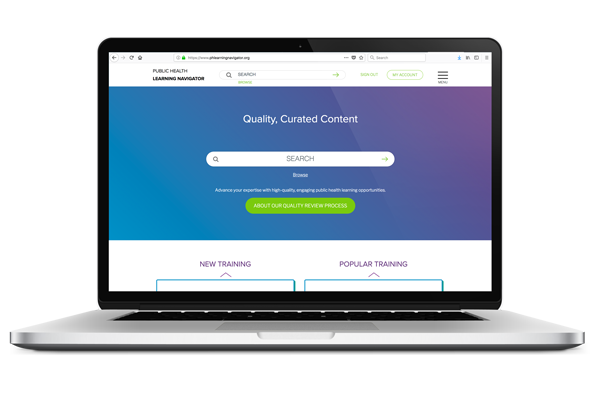 The Public Health Learning Navigator launched nearly three years ago, creating a streamlined and selective online resource designed to connect public health professionals with high-quality learning experiences. Laura Prechter, program manager for workforce development capacity building at the National Network of Public Health Institutes and Learning Navigator project lead, spoke with the team leading learning and workforce development efforts at the de Beaumont Foundation, which has invested in bold solutions focused on improving the health of communities, including the Navigator.
Part one of their conversation has been condensed and lightly edited for clarity. To read part two of their conversation, click here. To explore the Learning Navigator and start building critical public health skills, click here.
---
Laura Prechter:
So can each of you briefly introduce yourself and share a little bit about your background in public health workforce training and development?
Katie Sellers:
I'm the executive vice president at the de Beaumont Foundation. I started my formal public health career at a Ppublic Health Institute — the Louisiana Public Health Institute. I've always worked in the research and evaluation space. I've been doing that for about 20 years, but I didn't really come into working on the public health workforce until 2013. At that time, I was at the Association of State and Territorial Health Officials and was on the receiving end of a grant from the de Beaumont Foundation that led to bringing workforce stakeholders together—something we called the consortium for public health workforce development back then.
That led to a survey called the Public Health Workforce Interest and Needs Survey, which we did in 2014 and 2017 and are gearing up to do again in 2021. So, I would just say that my experience and expertise around the public health workforce really has to do with collecting data and understanding through a data lens, what's going on in public health departments and in the public health workforce, more generally.
Adam Judge:
I've been the senior learning officer at the de Beaumont Foundation since 2012. In that time, I've been a mentor for the CDC (Centers for Disease Control and Prevention) E-learning Institute (ELI) for about seven iterations of the program now. I've provided design and technical support on a fairly large number of e-learning courses. Prior to that, I was at the State Department Foreign Service Institute, again, doing e-learning and online content.
Samantha Cinnick:
I'm a program officer at the de Beaumont Foundation, focused on our workforce development portfolio. I have a background in health education and health promotion. I got my MPH at Columbia University, and I thought I was going to be doing health education for communities. But, my first job out of the MPH was actually for a regional public health training center, providing education for governmental public health workers.
I was involved with training needs assessments for our region, which included New York, New Jersey, Puerto Rico, and the US Virgin Islands, placing students into practicum and field placement experiences in health departments and, providing really online training—webinars, online modules for those who are working in public health agencies.
Now that I work at de Beaumont, I think the workforce portfolio is designed to address the gaps that are identified in the Public Health Workforce Interests and Needs Survey—PH WINS. There's this idea that we're both developing strategic skills gaps that are identified from that survey as well as addressing some of the larger systems issues around recruitment and retention.
Laura Prechter:
Research conducted by de Beaumont Foundation, NNPHI, and many other organizations has shown a need to invest more and invest differently in the public health workforce and workforce development. With specific gaps in opportunities and trainings, have you noticed or experienced within the past few years?
Katie Sellers:
This is general, but money. What the public health workforce needs is more funding. And I always feel compelled to say that even though that's an obvious answer. But that is kind of how we got where we are today—where the public health workforce really has a lot of workforce development needs.
That's because it's been underfunded and it's also been funded in categorical ways that make it very hard to make workforce development a priority and particularly hard to make kind of the cross-cutting strategic skills, developing those. It makes it very hard to make the development of those [skills] a priority. So much of the money is earmarked for a particular area of health, or particular health threat.
In 2013, we came up with that framework for the strategic skills with all of the stakeholders I mentioned. That was a real collaborative consensus process that identified the strategic skills and those really resonated with the field at the time. Then we did PH WINS to survey the health departments to find out if it resonated across the field with individuals answering for themselves.
We saw in 2014, that it did resonate with the field. We saw in 2017 that there were still a lot of training gaps, and I anticipate we'll still see that in 2021. I think we'll see a lot of things have changed with the pandemic and all the burnout that people have been experiencing [and] the politicization of public health. But I believe we will still see that the strategic skills are still relevant and still places where public health workers need to be invested in.
Adam Judge:
Going back to the PH WINS survey, I would say financial management and effective communication were things that I have noticed came to the top in terms of areas that need attention in the field, so that's where I spend most of my time. The issues have been: redundancy – there are many, many courses created on a handful of the same topics; and quality control – the use of uniform quality standards for public health e-learning is a fairly recent development.
Samantha Cinnick:
The only other thing I would add to what Katie and Adam have said is that there is a lot of data from PH WINS, showing how many people are thinking about leaving the workforce. I think in 2017 it's something like half are considering leaving either due to retirement or some other reason. I think that some of the training, obviously strategic skills, need to be strengthened, bolstered because those are things that make it a more interesting and fun and productive and impactful place to work when people have those strategic skills in place.
I also think making sure that any training is something where you're developing those skills on real-world problems. So, if there are ways to build the strategic skill development around a real issue that a health department is facing, like recruitment and retention, I think that is just always more impactful than a training that might just be about one strategic skill, for example.
Laura Prechter:
The Public Health Learning Navigator was created to address some of those gaps and opportunities Adam mentioned, like quality trainings. What specific elements of the Navigator have intrigued and excited you the most?
Adam Judge:
The thing about the Navigator that just changes everything—the game changer—is the review by multiple trained individuals. That's something Navigator brings to this issue that's very useful and it just completely changes the way it works. It makes it a whole lot better for the user.
Katie Sellers:
In a lot of ways, the Navigator is about helping to find the needle in the haystack or a few needles in the haystack, and furthermore, a few very high-quality needles—sharp needles. There is a lot of training out there, and it's hard to find the ones that are of the best quality and the topics that are most relevant right now. The Navigator really brings a lot to the field, a lot of value to the field by curating it and having that rigorous review that really helps you know that what you find on the Navigator is going to be worth your while.
Samantha Cinnick:
Something else that's emerging from the Navigator, now being around for a couple of years, is the network of reviewers. This ability to have a group of people who are keeping their fingers on the pulse of what is going on in training and seeing what trainings are available, communicating that back to their network. I think that's also something that's really exciting about this platform.
Click here to read part two of this conversation.