How The Public Health Learning Navigator is Charting New Pathways
Since its launch in May 2018, more than 100,000 public health professionals have visited the Public Health Learning Navigator to access the high-quality, carefully curated trainings on topics ranging from public health essentials to program evaluation. Today, the Learning Navigator features more than 100 self-paced online trainings that have been rigorously peer-reviewed using the Quality Standards for Training Design and Delivery. 
Only slightly more than half of eligible trainings nominated to the Learning Navigator are awarded the Quality Seal. When public health professionals see the Navigator seal featured on a training page, or see a training listed on the Learning Navigator website, they know training has been certified high-quality in three major domains including set-up, learning and application, and user interface. 
A lot has changed since the Learning Navigator launched four years ago. COVID-19 has fundamentally altered the way public health professionals work, how they learn, and how they grow in their careers. COVID-19 pulled back the curtain on the weaknesses in the current system, according to Vincent Lafronza, CEO of the National Network of Public Health Institutes (NNPHI).
"Health departments and nonprofits alike had to scurry in communities to sort of prepare to respond to get vaccination clinics and communications up and running," said Lafronza.
Balancing the workload while staying agile in a rapidly changing environment is a constant challenge for the public health workforce. Training often takes a backseat to the day-to-day tasks of public health programming. 
The Learning Navigator helps the workforce find the right high-quality training so their time isn't spent searching for opportunities that might not provide the appropriate level of instruction. Professionals who use the Learning Navigator are able to access publicly available training that uplifts the workforce and provides people with the necessary skills to advance their careers and better serve the public. On the Learning Navigator website, users can filter for trainings in many different ways like length, certification, or career level.
The primary function of the Learning Navigator is to provide a free, easy to access resource for the public health workforce and training developers. Considering the evolving needs of the field, the Learning Navigator team is excited to continue the site's evolution and will begin offering additional workforce support in the form of subscription-based learning pathways. With each subscription, organizations will be able to offer their staff individual learning plans, access to a peer learning community, private newsletters and a public job board, as well as rigorous training plans. 
The Learning Navigator team is prioritizing a people-centered approach to learning that helps learners identify the skills they need to focus on now to enhance their ability to do their jobs now and prepare them for the future. The unfortunate reality is the field of public health has a high turnover and burnout rate. Lafronza said the field needs to keep people who are current in their knowledge of best practices and cutting edge ideas in the field.
The subscription-based learning pathways launching in April 2022, as a new iteration of the Learning Navigator almost four years after it premiered, will offer complete training pathways for public health professionals based on customized development plans. Individual staff often don't have time to figure out how to prioritize learning into their already packed schedules. Organizations have a responsibility to prioritize training and skill development for their employees. The Learning Navigator subscription model will give training and human resource managers a greater level of access and control over staff training without the onerous task of evaluating training needs.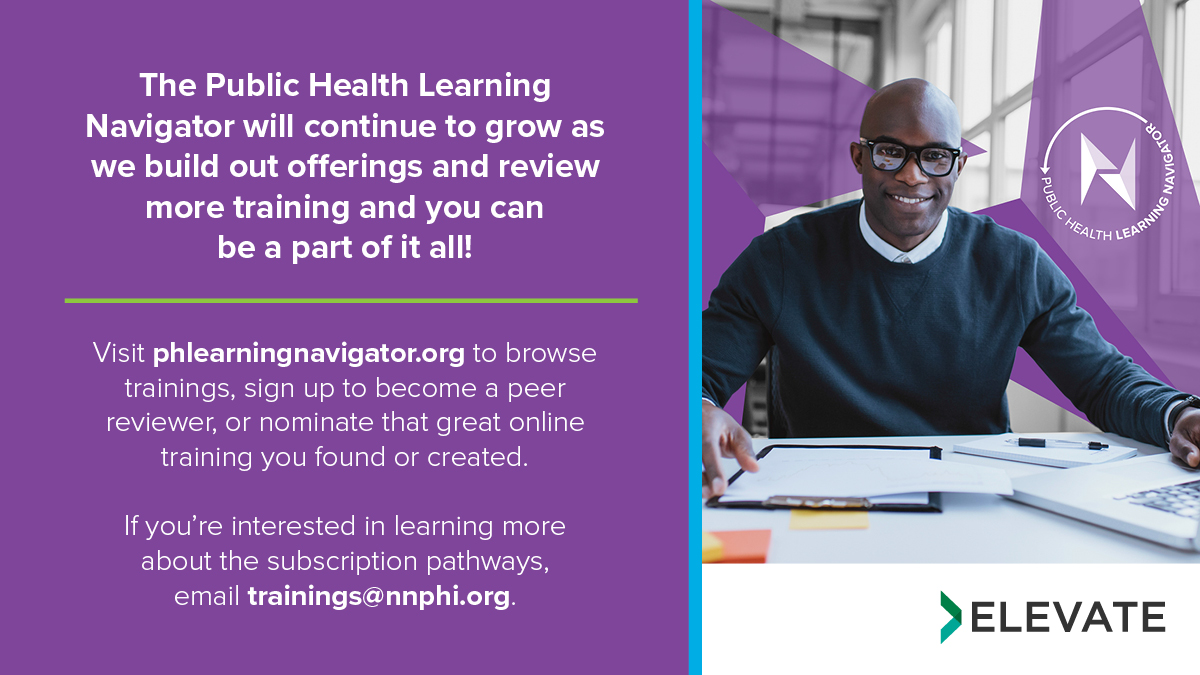 "I really hope HR and the learners get more involved so public health workers can guide what needs to happen next, what they think is missing, what they think can be improved," Lafronza said. "Management is responsible for evaluating how well the staff is doing in terms of their job functions. We should co-create things more than we do."
The Public Health Learning Navigator will continue to grow as we build out offerings and review more training and you can be a part of it all! Visit phlearningnavigator.org to browse trainings, sign up to become a peer reviewer, or nominate that great online training you found or created. If you're interested in learning more about the subscription pathways, email trainings@nnphi.org.