Turning Small Opportunities into Big Collaboration in Kansas: Systems Thinking as a Strategy to Improving the Behavioral Health Service System
Author

By: Multiple Authors

Date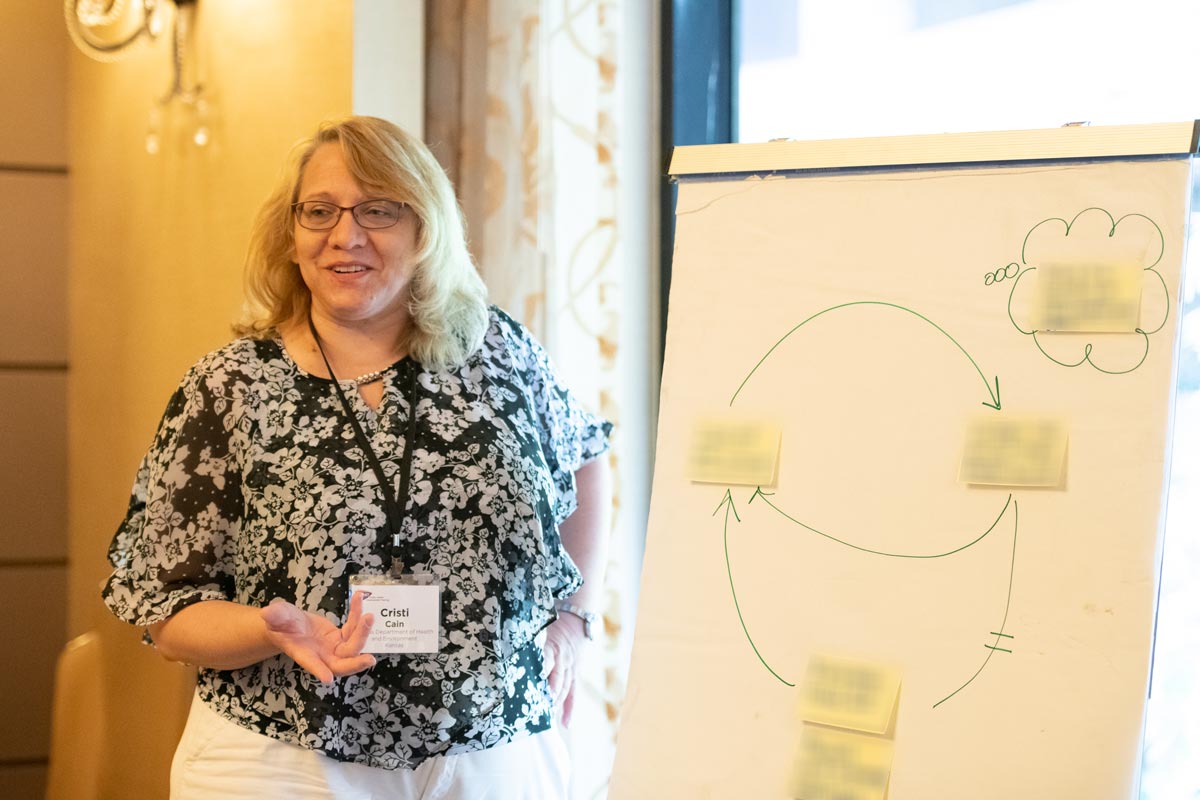 Cristi Cain, local public health program director and accreditation coordinator at the Kansas Department of Health and Environment, is one of 12 participants in the National Network of Public Health Institute's (NNPHI) 2019 Strategic Scholars Program, which helps public health professionals build and enhance key strategic skills for modern-day public health practice. Supported by the CDC, NNPHI's Strategic Scholars Program offers public health workers an in-person learning exchange, individual coaching, online learning opportunities and a chance to share with peers throughout the course of the program.
In June of this year, Cristi and her team participated in a one-day systems thinking workshop offered through the program, led by systems thinking expert Julia Ross. After the workshop, during subsequent conversations, the group recognized a tremendous opportunity to use a systems thinking approach to improve the integration of health services among local health departments in Kansas.
We asked Cristi to share more information about her experience in the Strategic Scholars Program and the event her team planned, which was attended by 90 public and behavioral health professionals. This interview has been lightly edited for length and clarity.
Was there a particular moment during the Strategic Scholars Program that inspired you to coordinate the statewide Behavioral Health Community Planning Day?
As our core team continued to meet and discuss some of the systemic challenges related to behavioral health in Kansas, we felt compelled to take action. The event resulted from a series of brainstorming sessions. 
What lessons and experiences did you draw from the program that informed the way you designed the behavioral health event?
We made sure to gather feedback in advance from the target audience—local health departments— about what would be most helpful. For example, one discussion took place about whether to have a session with high-level leadership content or share practical strategies that they could easily implement in their communities. Based on their feedback, we decided to include practical strategies. We also drew on our experience developing online and in-person public health workforce development opportunities. 
What support did you receive from your Strategic Scholars Program peers or subject matter experts to develop your idea or plan the event?
Our program coach, Julia Ross, served as a design team member and was vital in offering input and feedback regarding agenda planning and logistics. She even volunteered to facilitate the event. We also relied on the input and advice from numerous public and non-public health professionals during the planning period.
How did you integrate what you're learning about systems thinking into the summit? What outcomes do you hope to achieve in Kansas as a result of this effort?
What we learned about systems thinking from our coach is to focus on what is in our sphere of influence and not take on too much at once. We focused on identifying mental models and "invisible" structures that inhibit public health from doing behavioral health work. For example, we identified the common mental model of "that's not my work." We confronted that barrier by clearly articulating how behavioral health is a public health issue and public health work.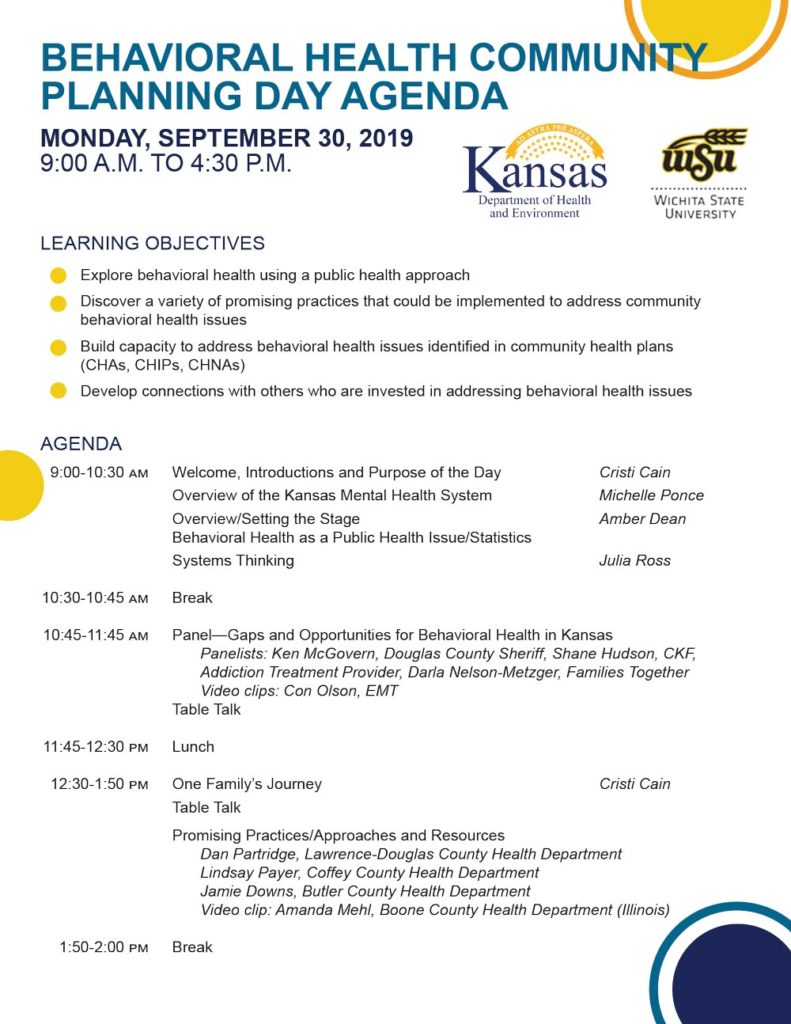 Did you experience any challenges in bringing together such a large group of diverse stakeholders? How did you navigate those challenges? 
[We] faced challenges determining who to include and how to frame the agenda to the target audience, while still being inclusive of non-public health participants. After planning calls with many non-public health partners who wanted to change the agenda, we realized that getting clear about the event's purpose — to help local health departments make progress on behavioral health priorities in the communities they serve — was very important. Still, we did not make all partners happy, and some partners who are part of systems that may need to make some changes were feeling under attack. We are still working to address this piece. Our strategies have included one-on-one meetings with partners and a plan for being extremely mindful of potential framing and discussion at future events. 
What feedback have you received from event participants?
Feedback has been overwhelmingly positive, especially from the public health participants, who appreciated being exposed to new ideas, strategies, and resources and having the chance to collaborate with others during the event. One-hundred percent of post-survey respondents indicated they would be interested in participating in another, similar session, and 96 percent learned about a new resource or strategy. One participant commented, "This was everything and more we hoped. I brought so much back to [my jurisdiction] to help with our efforts to improve mental health."
What's next? What is the opportunity to sustain the momentum you've helped create?
The core team is partnering with local health departments and Aetna Insurance to organize at least three future events in other regions of Kansas (Aetna has awarded nine mini-grants to local health departments to replicate similar events and/or to focus on social determinants of health). All event participants as well as other local health department administrators will be invited to a community of practice to be scheduled in early 2020 to share successes, challenges, and strategies and best practices. Additionally, follow-up and ongoing coaching will be provided to communities upon request.
Top 5 Issues to Consider at the Intersection of Behavioral Health and Public Health
Check out our list of the top five most important issues at the intersection of behavioral health and public health.