"The With Principle": When It Comes to Building Workforce Capacity for Quality Improvement, 'With' Is the Most Important Word in NNPHI's Vocabulary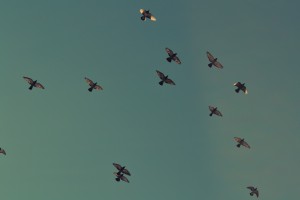 Like-minded professionals gather at our semi-annual Open Forum for Quality Improvement (QI) in Public Health to co-learn and collaborate on using QI to improve public health performance. Building on adult learning principles, Open Forum participants explore QI theories and then apply them to every day practice.
More than 300 tend to join us for the Open Forum and, typically, 95 percent or more of our participants report that the event is valuable to their work.
Exploring "The With Principle"
NNPHI's success with the Open Forum reflects our commitment to collaborative work and problem-solving as a core value. We take great care facilitating a planning process that involves not only our in-house Convenings Team, but our funders, partners, and hundreds of Open Forum participants.
In planning "with" rather than "for," we observe a key principle about experiential learning among adults. According to Sally S. Russell, former Director of Education at the Society of Urologic Nurses and Associates:
"When an adult learner has control over the nature, timing, and direction of the learning process, the learning process is facilitated. Adults need to be self-directed, deciding for themselves what they want to learn."
By engaging participants and other key stakeholders in the planning, implementation, and evaluation of each event, we help everyone learn and gain from the planning experience.
How NNPHI embodies "The With Principle"
Planning Calls with Practitioners
Rather than host one planning committee meeting, we host at least 2 planning calls prior to each Forum that are open to anyone in the field. We invite all previous participants (several hundred) to participate to share their thoughts and ideas about session content, networking and logistics, and format.
Planning with Partners and Funders
We are grateful for the support from numerous national organizations that all but guarantees the Open Forum's success. Our partners include:
Association of State and Territorial Health Officers
Centers for Disease Control
National Association of County and City Health Officials
National Indian Health Board
Public Health Accreditation Board
Public Health Foundation
Beore each Open Forum, NNPHI reaches out to national partner organizations who support the field in performance improvement skills-building to…
Invite them to share tools, resources, and other information during the Forum;
Ask for their support in identifying practitioners who may be able to present about their work, and;
Identify innovations that forum participants can share and explore during the Forum.
Developing Abstracts with Practitioner-led content
In 2012, NNPHI began accepting abstracts from participants for certain sessions at the Open Forum. In this way, NNPHI is able to identify presenters to share stories most relevant to the field and its professionals.
Providing an agenda with multiple sessions and formats
By offering numerous breakouts, roundtables, posters, and discussions sessions on a wide variety of QI-related content, Open Forum participants are able to self-select and self-direct their learning experience.
Implementing with participants
Most Open Forum sessions are presented by the practitioners who have lived the experience of implementing QI. They are able to share their real life examples of what worked, what didn't, and what they learned.
Evaluating with attendee input
After each Open Forum, NNPHI evaluates the experience to inform future meetings. The response rate is high and we review, categorize, and file all the suggestions we receive.
Looking ahead
NNPHI is always seeking ways to enhance the 'With Principle' in its work to build workforce capacity on a number of public health issues.
Should you have any ideas about how we can do this, please don't hesitate to share your thoughts in the comments section below.
---
Author: