The Long Road to Accreditation: Amy Campbell's #PHITinSix
Author

By: Multiple Authors

Date
This is Part Three of our four-part #PHITinSix series, in which we highlight an attendee of our 2016 Public Health Improvement Training (PHIT) each week. This week, meet Amy Campbell.
Amy is the Director of Community Health Promotion & Planning and the Accreditation Coordinator at the Carroll County General Health District.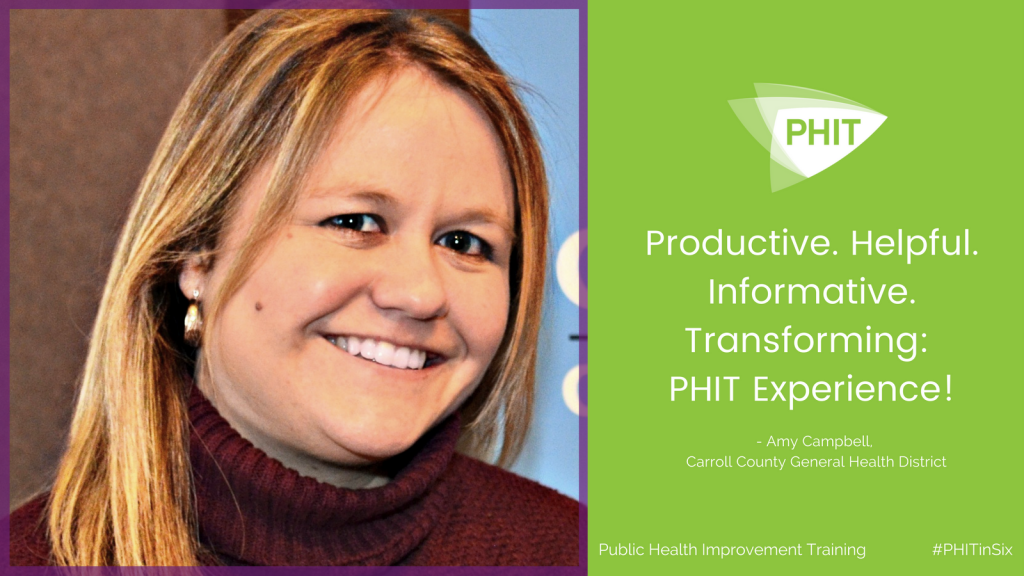 Amy's Story
I work at a small health department in Ohio that is in the middle of an overwhelming accreditation process. To help our health department launch an effective performance management system from the ground up, I needed to become a resident expert on performance management techniques, stat. Not exactly the easiest task. However, last year's agenda for PHIT revealed plenty of chances to build my expertise during the training.
I knew we could improve our department's success and efficiency in the accreditation process by applying the creative approaches reinforced at PHIT 2016. Keeping people engaged throughout the accreditation process is a huge challenge. Having a visual representation for staff to reference can make all the difference in team enthusiasm. Realizing this, we developed a "Roadmap to Accreditation" poster, depicting a car moving along a length of road, to show the progress of our application. With this visual aid, staff members know exactly how much work we've accomplished, and just how much we have left to do!
In addition to the tools I brought home with me from PHIT 2016, the convening connected me to the Public Health Performance Improvement Network (phPIN) which, in turn, offers an opportunity to ask questions of my performance improvement peers, and request templates, documentation examples, and tools from health departments across the United States.
PHIT is such a beneficial training because it offers a variety of sessions for all health departments, no matter where you are at in the process of performance management, quality improvement, workforce development, and accreditation. 
Before PHIT, I had never been to a training opportunity where every single session I attended was as high quality, informative, and actionable for my health department. The connections I made there are invaluable. I am so thankful that I had the opportunity to experience PHIT in 2016 and am definitely planning to attend in 2017!
---
Get Involved
Looking to gain valuable insight into performance management, like Amy? Register for #PHIT2017 today »
Looking for ways to stay connected with Performance Improvement professionals beyond PHIT? Join our Public Health Performance Improvement Network (phPIN) »
Want to share your PHIT story? Tweet @NNPHI_ORG using the hashtag #PHITinSix »
---
Authors:
Amy Campbell, Director of Community Health Promotion & Planning and the Accreditation Coordinator at the Carroll County General Health District
Shaila Huq, Communications Associate, National Network of Public Health Institutes