Hurricane Response Hub
Building disaster-related public health capacity to enhance environmental and occupational health recovery efforts nationwide.
"Together we can reduce morbidity and mortality by eliminating environmental and occupational exposures during and after hurricane events." – Vincent Lafronza, president and CEO, NNPHI.
Our Work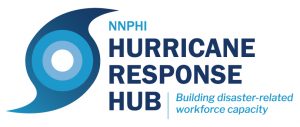 Funded by the Centers for Disease Control and Prevention (CDC), the Hurricane Response Hub (HRH) initiative is designed to enhance disaster surveillance in addition to environmental and occupational health recovery efforts in areas impacted by Hurricanes Harvey, Irma, and Maria by building disaster-related public health workforce capacity.
The National Coordinating Center for Public Health Training (NCCPHT) at NNPHI will coordinate efforts across five jurisdictions led by member institutes that will serve as technical assistance centers for the project:
Florida – Florida Institute for Health Innovation
Georgia – The Rollins School of Public Health at Emory University
Louisiana – Louisiana Public Health Institute
Puerto Rico – Puerto Rico Public Health Trust
Texas – Texas Health Institute
These technical assistance centers will serve as the coordinating body within each jurisdiction, working with a range of state and regional partners to lead public health workforce capacity building activities in disaster-related surveillance, environmental, and occupational health needs, including:
Fulfilling technical assistance requests
Providing resources and educational materials
Training the workforce in disaster-related environmental and occupational health recovery needs
Addressing surveillance for morbidity and mortality from disaster-related environmental and occupational health exposures
Improving the capacity of public health information sharing on disaster-related environmental and occupational health issues.
The training and resources developed through this initiative will also help public health institutes, emergency management, government entities, and other organizations build workforce capacity and institutional knowledge that improves disaster-related recovery in the future.
Contact Us
Individuals and organizations leading or supporting disaster-related recovery based in 2017 Hurricane impacted jurisdictions can learn more and access training and technical assistance by contacting us.
Submit a Technical Assistance Request
The Hurricane Response Hub is committed to providing customized technical assistance to individuals, organizations, and agencies recovering from the effects of 2017 Hurricanes Harvey, Irma, and Maria. The goal is to enhance existing disaster-related morbidity and mortality surveillance, environmental health, and occupational health recovery initiatives through workforce capacity building activities such as providing training, resources, and educational tools. To request technical assistance from one of the Hurricane Response Hub Technical Assistance Centers (HRHTAC), please click on the button below. A representative from an HRHTAC will contact you within 2 business days.
The following is a menu of technical assistance services and topics that the Hurricane Response Hub Technical Assistance Centers can provide their jurisdiction:
TA Services

Email discussions: HRHTACs will fulfill straightforward technical assistance requests via email. For example, a TA request for a fact sheet on best practices for mold remediation will be answered by email with the requested resources supplied as an attachment.
Phone consultations: HRHTACs may fulfill more complex requests over the phone. This may include phone conferences with multiple individuals or organizations.
Facilitating connections to people, organizations, or resources:  As the go-to for hurricane related resources and training for their jurisdiction, HRHTACs may fulfill TA requests by facilitating introductions to individuals, organizations, or other existing resources.
Training and educational opportunities: Each HRHTAC will provide access to relevant training and educational opportunities for their jurisdiction on their website.

Topics

Disaster-related morbidity and mortality surveillance tools and training
Community Assessment for Public Health Emergency Response (CASPER) toolkit
Disaster epidemiology methods
Environmental health: air safety, water safety, vector control, mold, chemical hazards, carbon monoxide, etc.
Occupational health: responder safety, trauma and wellness support, protective equipment, electrical safety, clean-up procedures, etc.
Communicating about environmental and occupational health hazards
Submit Technical Assistance Requests Here
Join the HRH ListServ
Join the Hurricane Response listserv to connect with your peers to exchange ideas and resources.
Send Us an Email
If you need additional information or have questions, feel free to contact the HRH team at HRH@nnphi.org.