Hurricane Response Hub Project ECHO Series
Expanding the Applied Learning Collaborative Approach to Project ECHO
"Allowing people to participate in a community of practice around specific problems of this nature will lift all boats."
-Dr. Sanjeev Arora, creator of Project ECHO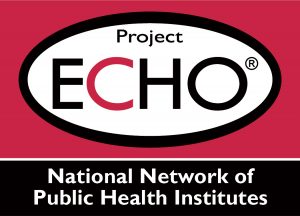 Through the HRH, NNPHI and the Centers for Disease Control and Prevention are supporting five technical assistance centers in Florida, Georgia, Louisiana, Puerto Rico, and Texas that in turn are collaborating with emergency management agencies, education institutions, local governments, and several other entities to build disaster-related workforce capacity. The Project ECHO framework provides an ideal opportunity to build sustainable knowledge, skills, and infrastructure for responding to hurricanes and other natural disasters.
ECHO Overview and Goal
Project ECHO (Extension for Community Health Outcomes) is a workforce capacity-building model designed to demonopolize knowledge through increasing access to subject matter expertise and peer to peer experience-based learning. Project ECHO utilizes video conference technology to efficiently connect individuals around a common capacity building goal. Through the ECHO learning model, learning is founded on best practice strategies and reinforced through the group processing of current and common experience or "case". This experience/case-based learning ensures that participants increase their capacity through engaged, relevant and supported learning experiences.
NNPHI is applying the ECHO model through the HRH to maximize technology in improving the capacity of the HRH Technical Assistance Centers and the workforce they serve with:
current best practices;
lessons learned;
and tools and resources in disaster-related environmental and occupational health issues and approaches.
ECHO Programming
Series will be offered in the fall of 2019 and spring of 2020. Series will be weekly for one-hour meetings.
Disaster-related Environmental Health Response and Recovery ECHO Series
This six-session Project ECHO series will focus on core strategies related to the identification and implementation of protocols for disaster-related environmental remediation including, but not limited to mold, air quality, and water quality.
Individual and Workforce Resilience – Before, During, and After a Prolonged Hurricane Emergency
This six-session Project ECHO series will have three sessions focused on individual strategies to improve personal resilience and increasing capacity to share strategies, and three sessions focused on policies and practices that support collective disaster response workforce resilience and highlighting opportunities to prepare non-traditional responders.
Participation Expectations
A Project ECHO Series is much like a course or class. Participants are expected to attend all the sessions. We also expect participants to actively contribute to each session's discussion. Participants should always join each session using both video and audio, so everyone can be seen and heard in each session.
Participation Eligibility
Eligible participants must be working in Georgia, Florida, Puerto Rico, Louisiana, or Texas. This series is currently available for the five listed jurisdictions only. If you are interested in following this work and/or hearing about future opportunities, sign up here: https://nnphi.org/hurricane-response-hub/.
If you are interested in participating in either ECHO series, free of charge, please complete this interest form. Dates and more information regarding the curriculum will come soon.
Complete Project ECHO Series Interest Form
Questions? Contact: Isabella Kaser, Program Associate HRH – ikaser@nnphi.org.