Editorial: Public Health Training and the Craigslist Table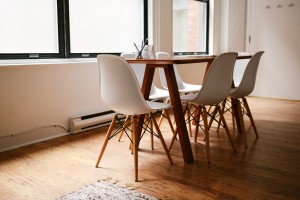 "Finding online training is like trying to find a table on Craigslist," a leader of one of the Public Health Learning Network's (PHLN) national partner organizations once told me. "It's easy to find a long list of tables, but sometimes the advertisements don't include measurements or good photos. You know it's a table, but you don't know if it's the right table." The experience of searching Craigslist—the biggest host of online classified ads—can be overwhelming.
Finding online training is easy. Finding the right training is tough.
We know that most people working in public health do not hold public health degrees; we know that the workforce is shrinking; and we know that to protect the public's health from increasingly complex public health challenges, such as gun violence or the spread of Zika virus, public health professionals need to develop a broad range of skills. Finding online training to meet these needs is easy, yet finding the right training at the right time is tough. The breadth of choices, spanning dozens of websites vying to answer the most pressing and relevant public health questions, makes the process more challenging. The right high-quality training to meet a specific need can be as hard to find as that piece of sturdy, beautiful furniture floating in Craigslist's vast, digital online sea.
Many options, little coordination
Multiple funders and organizations support online training at a national level, including the Public Health Foundation's Training-finder Real-time Affiliate Integrated Network (TRAIN), the Center for Disease Control and Prevention's CDC-Learning Connection, the National Association of County and City Health Officials (NACCHO)'s NACCHO University, and Public Health Informatics Institute's Informatics Academy. Many universities and institutions support their own regional or local learning management platforms.
However, these systems and services are not yet coordinated. And encountering numerous separate websites, each with logins and long registration forms, makes it harder to find and access much-needed resources and guidance.
Enter the nation's most comprehensive system of public health educators, experts, and thought leaders
The PHLN was created to address this problem. We want to help public health professionals find high-quality, relevant, targeted, and accessible training that responds quickly to learners' needs.
We are a network of ten public health training centers (PHTC), forty affiliate training centers (local performance sites), and one National Coordinating Center for Public Health Training. Through partnerships with national, regional, and local training providers, we aim to ensure the public health workforce has access to the training tools and resources they need to respond to the complex public health challenges of today and tomorrow.
Network sites collaborate to share training, expertise, opportunities, and ideas. Because public health needs are interconnected across local, regional, national, and global lines, a network helps regions learn from and support each other's work.
To lay the foundation for an online training strategy, we recently partnered with Georgetown University's National Center for Education in Maternal and Child Health to conduct an extensive review of more than seventy online training delivery systems. The review explores how online learning is made available to the workforce and highlights best practices for replication and expansion. We look forward to sharing key lessons from the results.
We are also developing a training highlights widget, embedded on network training center websites to highlight recent, relevant, distance-based opportunities offered across our network of over fifty training organizations. You can check out the widget on our website or at any of the training centers.
Elevate
To tie PHLN's strengths and resources together, we're happy to introduce Elevate, our new quarterly publication. Elevate, your resource for lifelong learning in public health practice and population health improvement, focuses on public health workforce needs as well as hot topics and relevant strategies in public health training and education. Elevate highlights the real-world strategies and lessons of public health leaders and training providers across the network regions who are working and collaborating to foresee, prepare for, and respond to public health training needs.
This inaugural issue of Elevate highlights examples of how and why we're collaborating to tackle some of the most challenging and compelling public health issues with high-quality trainings and resources. This issue includes stories about addressing public health effects of climate change, providing urgent information on Zika while understanding of it still developing, and meeting an urgent need for violence and injury prevention work.
With Elevate and PHLN's other resources and opportunities, please join us in ensuring that everyone who wants to can easily find the perfect table around which to gather and learn from our work.