When Opportunities Converge: Deena Mosbarger's #PHITinSix story
Author

By: Multiple Authors

Date
This is the final blog of our four-part #PHITinSix series, where we highlight an attendee of our 2016 Public Health Improvement Training (PHIT) each week. This week, meet Deena Mosbarger.
Deena is the Human Resources and Special Projects Director at the Clay and Effingham County Health Departments.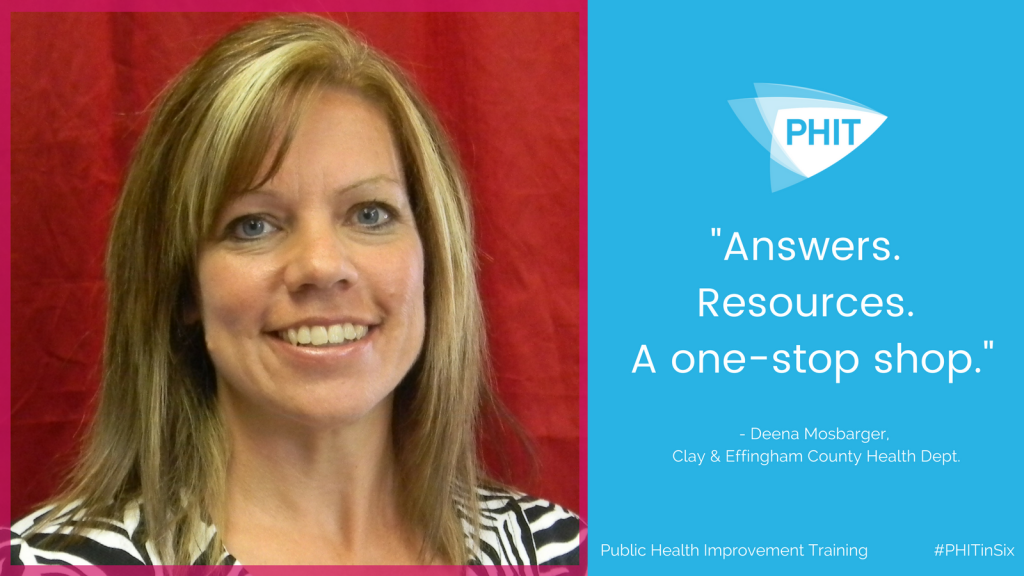 Deena's Story
Change is never easy. Following the departure of an administrator in 2016, simply surviving became the motto for the Effingham County Health Department in Effingham, IL. Meanwhile, staff members at the nearby Clay County Health Department in Flora, IL were in the process of uploading hundreds of documents to the Public Health Accreditation Board (PHAB) site in support of their national accreditation application.
Building on a long history of working together on community initiatives, the two health departments reached a joint management agreement to maximize staff resources in both departments. As part of this agreement, both counties' Boards of Health agreed to share key members of staff to organize and prepare for accreditation across both health departments. Following the agreement, an opportunity arose to change Clay County's accreditation application to a multi-jurisdictional (MJD) application for national accreditation. As a multi-jurisdictional health department, Clay & Effingham health departments would work together to deliver services and perform functions over both counties and formally share resources to deliver essential services. MJD health departments save costs, avoid redundancy, and benefit from a greater breadth of expertise, local knowledge, and connection to their communities.
The newly minted Clay & Effingham Health Department filed its application change in June 2016, shortly after attending the PHIT conference. At first glance, the combined MJD application process appeared near impossible – too much work, too little time. However, the combination of PHIT trainings, skills-building, and presentations from professionals in the accreditation field offered us the network, resources, and confidence-boost to proceed with the application.
I am happy to say we are now six months from completing our documentation upload in e-PHAB. Further, our local hospital has contracted with us to conduct their Community Health Needs Assessment (CHNA), demonstrating their confidence in our abilities and providing the necessary funds for continuing our important work.
Participating in PHIT 2016 and being introduced to both the Public Health Performance Improvement Network (phPIN) at the training were game-changing for our new department. At a time where we felt stagnant and change felt like a distant goal, this training allowed us to reorganize our method and approach to accreditation, leading us down a more successful and efficient pathway. I look forward to seeing how further PHIT sessions might contribute to creating an even more successful joint health department in the coming years!
Get Involved
Have a challenging accreditation process ahead of you, like Deena? Register for #PHIT2017 today »
Looking for ways to stay connected with Performance Improvement professionals beyond PHIT? Join our Public Health Performance Improvement Network (phPIN) »
Want to share your PHIT story? Tweet @NNPHI_ORG using the hashtag #PHITinSix »
---
Authors:
Deena Mosbarger, Human Resources and Special Projects Director, Clay and Effingham County Health Departments
Shaila Huq, Communications Associate, National Network of Public Health Institutes