Trainings Featured in this Quarter's Elevate, Your Resource for Lifelong Learning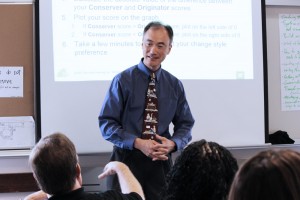 In our quarterly publication, Elevate, we've curated and highlighted a few of our public health training centers' online and in-person trainings. Topics include: preparedness, health equity, Zika virus, climate change, accreditation, and more. See the list below to learn more.
Community Preparedness: Awareness Level
This online module focuses on Capability 1 of 15 public health preparedness capabilities, which the Centers for Disease Control and Prevention (CDC) identifies as national standards for state and local planning.
Offered by Region I – New England Public Health Training Center
From Concepts to Practice: Health Equity, Health Inequities, Health Disparities, and Social Determinants of Health
This module gives the participant a broad overview of health equity, health inequities, health disparities and social determinants of health.
Offered by Region II – Region 2 Public Health Training Center
Protecting the Public from Mosquito-borne Illnesses: The Zika Challenge
Beth P. Bell, MD, MPH, Director of CDC's National Center for Emerging and Zoonotic Infectious Diseases, discussed the latest research findings about the current Zika outbreak and provided an overview of how health officials and health care providers can protect the public's health from Zika virus infection. (Archived webinar.)
Offered by Region IV – Region IV Public Health Training Center, Rollins School of Public Health, Emory University
Climate Change and Public Health
This course focuses on the public health impacts from climate change that are of most concern for Illinois, and what local health departments can do to mitigate and prevent those impacts.
Offered by Region V – Great Lakes Public Health Training Collaborative
12 Domains to PHABulous
This video series is a resource for those pursing accreditation from the Public Health Accreditation Board.
Offered by Region VII – Midwestern Public Health Training Center
Collaborative Public Health Solutions in Shale Development
The Rocky Mountain Public Health Training Center (RM-PHTC) is partnering with organizations RESOLVE and ECHO Colorado to host a virtual, highly interactive training series about collaborative approaches to public health in shale oil and gas development. In this series, participants will hear about innovative ways industry, public health, government, and community groups to work together to protect public health during the shale development process. More information will be available soon.
Offered by Region VIII – Rocky Mountain Public Health Training Center
Serving Immigrant Survivors of Sexual and Domestic Violence
This blended learning series developed by the Pima County Immigrant Victims of Violence Task Force includes three sections intended to help learners develop an awareness of the dynamics of domestic violence and sexual violence in the context of immigrant populations, and implement appropriate support for survivors of domestic and sexual violence.
Offered by Region IX – Western Region Public Health Training Center
Western Region Public Health Training Center is also offering an upcoming webinar series called Successful Nutrition Programs for Native American and Pacific Islander Communities.
Summer Institute for Public Health Practice
This two-and-a-half–day hands-on training at the University of Washington in Seattle explores the social drivers of health and builds practical skills needed for the future of public health. The institute includes interactive coursework, a plenary session, and networking. The program is open to professionals from all sectors and levels who are looking to gain practical skills. Limited travel assistance is available.
Offered by Region X – Northwest Public Health Training Center