The Public Health Learning Navigator: Preparing the Public Health Workforce of Today and Tomorrow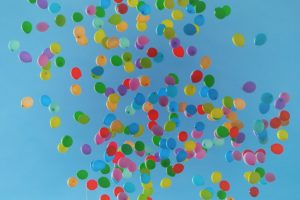 "Finding online training is easy. Finding the right training is tough."
Last year, we mentioned that we had partnered with Georgetown University's National Center for Education in Maternal and Child Health to conduct an extensive review of more than seventy online training delivery systems. In our Winter 2017 Issue of Elevate, we are pleased to announce a promising approach to supporting your search for high-quality training: The Public Health Learning Navigator.
The Public Health Learning Navigator is a curated, guided, and individualized experience to help public health learners navigate to high-quality training, tools, and resources they need to support community and population health. The Learning Navigator ensures that learners have access to training, tools and resources that are:
High-quality—the very best training, vetted by experts and practitioners alike;
Relevant—the most current trends in public health and the skills needed to keep up with a dynamic field;
Responsive—a reference librarian available to help users find the right training across multiple platforms to meet their needs, including connections to like-minded peers; and
Easily accessible with a clear and easy-to-understand system of organizing content by topic, field, or skills.
The Learning Navigator will have standardized training descriptions in plain language to help learners select the right resource and a simple registration process that will provide access to training across multiple sources.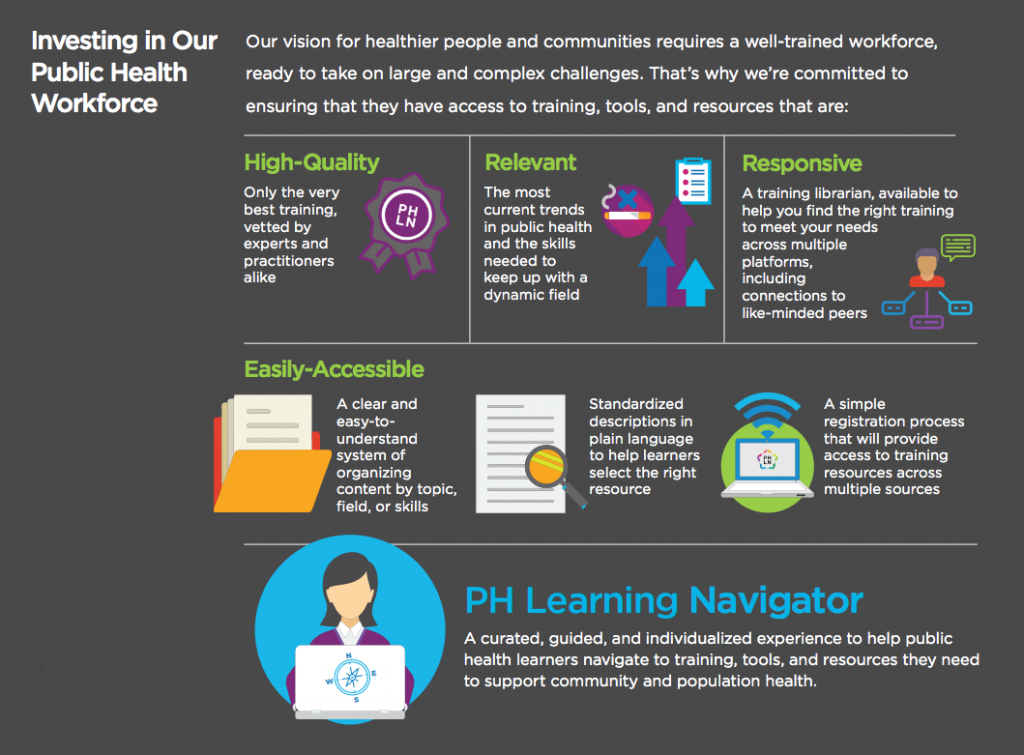 The Learning Navigator will also contain a standard set of course descriptions that includes the following minimum information: annotation, learning objectives, audience, creation and expiration dates, source/funder, presenter(s), modality/format, competencies addressed, length, learning level/prerequisites, costs, technical requirements and supplemental materials. Further, we envision that the Navigator will provide a way to preview a course or training similar to iTunes' option to listen to a song before buying it.
The target launch date for the Learning Navigator is May 2018.
The Opportunity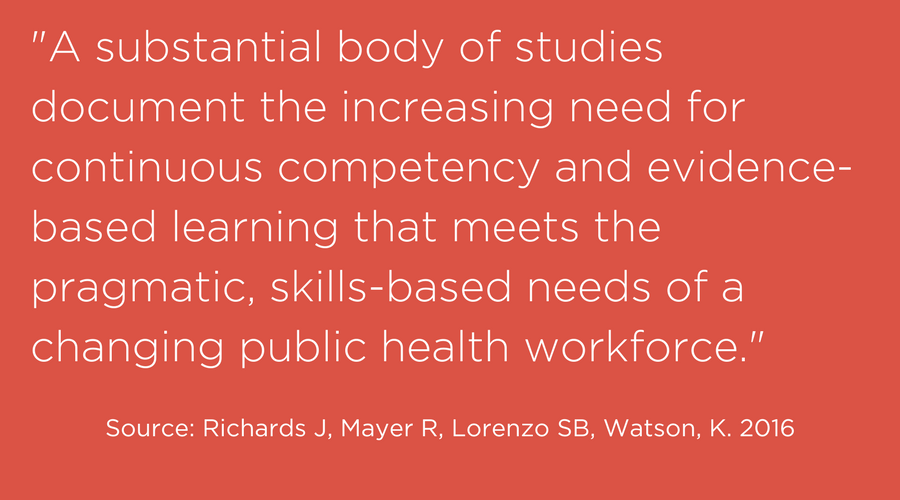 The field of public health online-learning is experiencing a period of great change and promise. Shrinking budgets are forcing creative solutions to keep public health knowledge, skills, and professional accreditations current. In 2014, the Health Resources and Services Administration (HRSA) funded the National Network of Public Health Institutes (NNPHI) to serve as the National Coordinating Center for Public Health Training (NCCPHT) to work with ten Regional Public Health Training Centers and 40 Local Performance Sites (together known as the Public Health Learning Network – PHLN). Their mandate is to improve the nation's public health system by strengthening the technical, scientific, managerial, and leadership capabilities of the current and future public health workforce. A key activity to accomplish this goal is co-creating and modernizing a best-in-class public health training system that is easily accessible to all communities and Tribes.
Together with its partners, the PHLN aims to ensure that all public health learners have easy access to quality training that meets their needs. In support of this aim, NCCPHT partnered with the National Center for Education in Maternal Child Health at Georgetown University to conduct a rapid and comprehensive environmental scan to develop a complete picture of delivery and dissemination systems for public health training. Researchers examined 70 online public health learning systems, completed an online survey of 90 public health professionals and interviewed 20 leaders from the field. The chief recommendation from the research was to create and launch a Public Health Learning Navigator.
Why Now?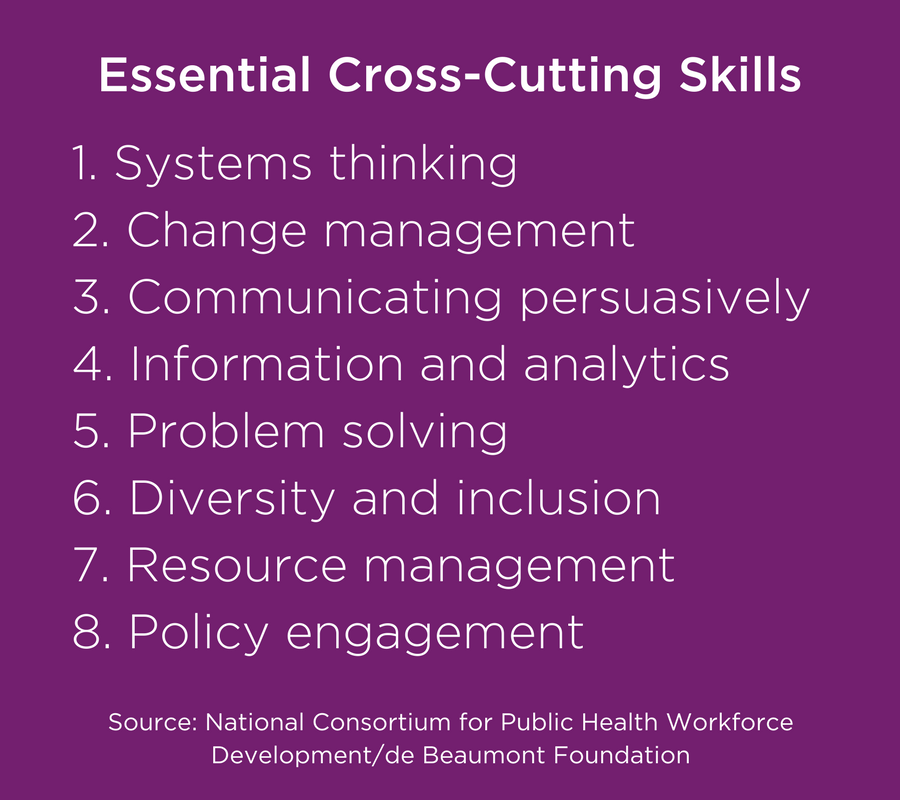 Public health faces a quickly evolving landscape of health systems change that requires an increasing emphasis on partnerships, accreditation and social determinants of health. The modern workforce needs to learn and utilize core professional leadership competencies to ensure they are "politically savvy, innovative, adaptive, and motivated." The Public Health Accreditation Board (PHAB) Standards and Measures bring the need for workforce development into sharp focus in standard (8.2), which instructs local health agencies to "ensure a competent workforce through the assessment of staff competencies [and] individual training and professional development."
However, only 17 percent of the public health workforce has a degree in public health at any level and ASTHO's 2014 Public Health Workforce Interest and Needs Survey (PH WINS) found that both graduate education for emerging professionals and continuing education (CE) for practicing public health professionals is lacking. PH WINS suggested that the public health workforce needs to be increasingly skilled in competency-based topics that are "underrepresented in governmental agencies." The National Consortium for Public Health Workforce Development, convened by the de Beaumont Foundation expanded on this and articulated eight essential cross-cutting skill sets that the public health workforce should have.
Yet, 38 percent of all local health departments (43 percent serving rural areas) currently do not have a line item in their budget for workforce training.
In their research using the Assessment of State Title V Workforce Development Needs, Grason, Kavanagh et.al. found that to improve knowledge and skills and to promote a sense of community, the public health workforce needs, "to utilize technology to develop innovative, collaborative learning experiences". The same study showed that, "a range of online learning systems have arisen to facilitate translation of knowledge from online courses to learner—in public health, healthcare, education, and the private sector." However, these resources are not well-coordinated and none of these systems employ standard practices to identify the highest-quality training among the myriad choices available. The environmental scan authors noted that, "Learners and training coordinators find it difficult to hone in on the best training to meet their needs amidst the clutter of online training." Demonstrating this point, the researchers googled the keywords, "leadership training" and "program evaluation." These searches yielded 6.9 million and 5.5 million hits, respectively.
The Public Health Learning Navigator Can Be an Integral Part of the Solution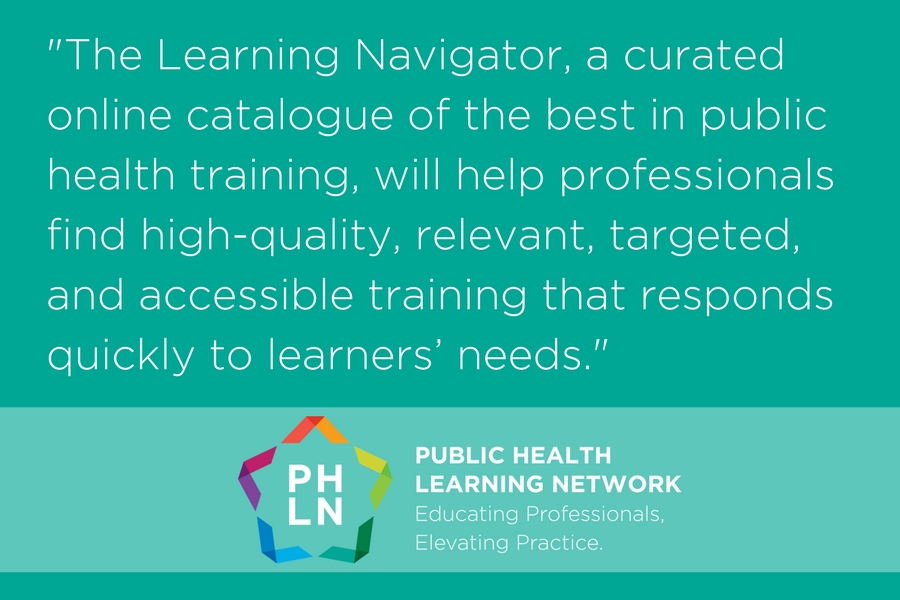 The Learning Navigator, a curated online catalogue of the best in public health training, will help professionals find high-quality, relevant, targeted, and accessible training that responds quickly to learners' needs.
We want it to be simple.
Experts and practitioners will vet the diverse online trainings available on this searchable database that includes entry-level and advanced course offerings with varying options in length, modality and interactivity; as well as easy-to-find trainings that provide CEs. By highlighting quality, relevant training, and making it easy to find, we aim to reduce duplication in training development across the country while also raising the bar for quality in training.
A training curator/reference librarian will become the online training expert who can provide personal service to those with questions via either the telephone or a chat feature. This service will help learners and training coordinators find the best online learning courses to meet their needs, as well as instruct them on how to effectively and efficiently search the Learning Navigator. A reference librarian will also point learners to the best resources (training course, document, book, website, etc.) to meet their needs, in addition to helping learners to search the systems that house the resources and information they want to access.
Keep in touch
Get updates about the Public Health Learning Navigator's development by signing up for Elevate, Collaborate, and general updates from the National Coordinating Center for Public Health Training/NNPHI. Subscribe to our newsletters »
Learn More
Completed for the Public Health Learning Network by the National Center for Education in Maternal and Child Health at Georgetown University, the report Advancing Online Public Health Training Systems: Challenges and Opportunities reviews the current landscape of online public health learning systems, identifies components of systems that are effective in making learning more efficient, and shares promising practices to emulate in modernizing the nation's public health training delivery system. Read the report »
---