We're a Designated Breastfeeding-Friendly Workplace Champion: Here's Why and How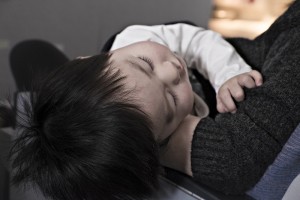 When Erin Fitzgerald joined us a few months ago from the Louisiana Public Health Institute (LPHI), she brought with her much more than a wealth of experience in program management. In fact, Erin quickly revealed her passion for ensuring that breastfeeding mothers have the space and tools they need to return to work comfortably.
Erin's experiences in championing breast-friendly workplaces arrived just in time for our recent New Orleans office move. NNPHI employs a large percentage of staff members of childbearing age, so we were delighted to learn that changing offices would mean gaining a new wellness and lactation room.
"Compared to LPHI, NNPHI has the same proportion of employees who could benefit from an official lactation policy," said Erin, who had led the charge for supporting breastfeeding mothers at LPHI through the organization's participation in the Louisiana Workplace Breastfeeding Support Program. The program represents a partnership between the Mary Amelia Women's Center at Tulane University and the Louisiana Breastfeeding Coalition. "I felt that NNPHI should implement a similar policy and that we could really use the resources offered though the grant program to support breastfeeding mothers."
The Louisiana Workplace Breastfeeding Support Program works with employers in New Orleans to raise awareness of and support adherence to federal laws that support breastfeeding employees. The program designates businesses as Breastfeeding-Friendly Workplaces and Breastfeeding-Friendly Workplace Champions.
"At LPHI, the designation came with a small grant that provided for seating and a refrigerator for breastfeeding mothers," Erin noted.
Erin worked with NNPHI's Workplace Wellness Team—a collection of employees that is institutionalizing workplace wellness across the organization—to write a lactation support policy that would recognize NNPHI's responsibilities to breastfeeding mothers, while defining the process through which employees should seek support from supervisors.
"We wanted to outline both NNPHI's responsibilities to honor things like break time, while outlining staff members' responsibilities for getting approval and keeping the wellness and lactation room clean," Erin shared.
NNPHI's Breastfeeding-Friendly Workplace Champion designation reflects a commitment to providing time, space, and support for employees who breastfeed or pump milk to feed their babies. Our message to employees, prospective employees, and partners, whether they are or will be breastfeeding mothers: "We support you."
Erin has emphasized just how crucial it is for a public health organization—and every organization—to help breastfeeding mothers feel welcome at work. "[As a public health organization] we know the benefits of breastfeeding…so we need to act on that."
---
Related Resources:
Organizational Development Resource: Supporting Breastfeeding Employees »
Learn more about NNPHI's lactation policy and designation as a Breastfeeding-Friendly Workplace Champion.