Advancing Public Health: The Story of the National Public Health Improvement Initiative
The National Public Health Improvement Initiative (NPHII) represented an unprecedented opportunity for the Centers for Disease Control and Prevention (CDC) to support state, tribal, local, and territorial public health departments to improve their efficiency and effectiveness. CDC invested in NPHII to infuse quality and performance improvement methods in health departments across the United States. NPHII provided $142 million and technical assistance to 73 awardees from 2010 to 2014. Annual funding for the program varied between $42.5 million initially to $32.5 million in Year 4.
---
All About CDC's 73 NPHII Awardees
The awardees were health departments in 48 states and the District of Columbia; 9 cities or counties serving large populations; 4 US territories; 3 US-affiliated Pacific Islands and 1 Pacific Island organization; 4 federally recognized tribes, and; 4 tribal organizations that support 250 federally recognized tribes.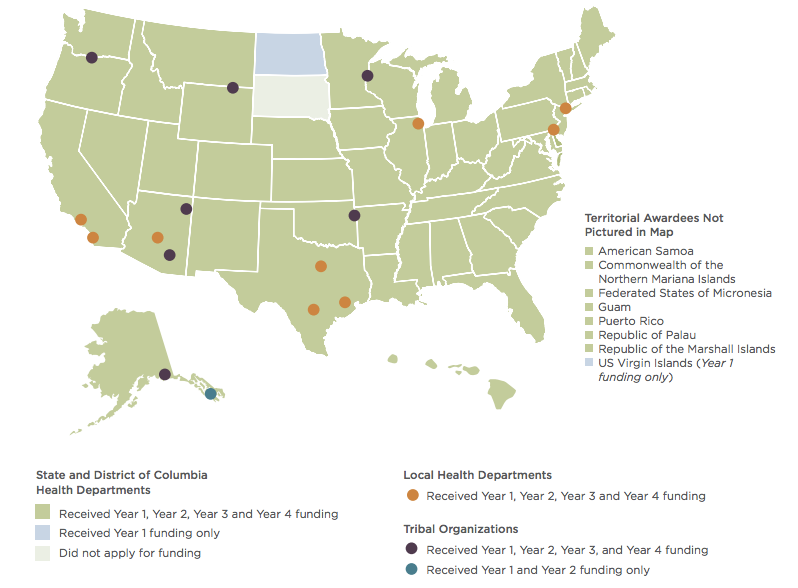 ---
NPHII Accomplishments
---
Advancing Public Health: The Story of the National Public Health Improvement Initiative was a collaborative effort of staff members in the Division of Public Health Performance Improvement (DPHPI), Office for State, Tribal, Local and Territorial Support (OSTLTS), CDC and the National Network of Public Health Institutes (NNPHI). NNPHI staff co-led the effort with CDC and provided tireless assistance in all phases of this compendium's development. Particular thanks go to NNPHI's subcontractors, who played important roles in developing stories, drafting text, and layout: NNPHI member Health Resources in Action, Wildflowers Consulting, and M22 Design.
During the 2.5 years of project management, compiling, and writing the NPHII Compendium, NNPHI staff learned many lessons. First, producing a document of this size that crosses divisions within CDC requires an extra degree of consideration, review, and planning to gain approval. Second, having one point of contact on the CDC team to help make decisions and move items forward was crucial in synthesizing feedback and input from a large number of CDC stakeholders. Third, our changing political environment boosts the levels of review required, which can push a project timeline out further than originally intended.
With the focus provided by NPHII's objectives and requirements, awardees were able to leverage NPHII resources in ways that best addressed their own needs. Awardees and partners found that the NPHII investments yielded other benefits across all areas, such as leaving a legacy of tools and resources that continue to be used by the field, enhancing peer connections in health departments across the country, and building the performance improvement knowledge base. Examples of the results associated with improved organizational efficiency and effectiveness through QI include:
Examples of effectiveness improvements:
The Sexually Transmitted Disease Unit at the Michigan Department of Health and Human Services used QI to improve the unit's ability to locate clients with syphilis by 12%.
In Tooele County, Utah, the percentage of tobacco vendors with a valid permit increased from 42% to 74% just 9 months after implementing a QI solution.
Examples of efficiency improvements:
The Office of Vital Records at the Arizona Department of Health Services reduced the turnaround time for mail-in requests of vital records from 27 days to fewer than 7 days.
The Puerto Rico Department of Health is responsible for inspecting more than 400 healthcare facilities. Using QI, it reduced the time taken to submit healthcare facility inspection reports from 5 months (150 days) to 14 days.
In 2014, more than half of awardees (52%) used NPHII funds to support accreditation readiness, PM, or QI activities by other health organizations in their jurisdictions. This helped extend the reach of NPHII funding to others in the governmental public health system. In some cases, the support provided to other agencies helped foster cross-jurisdictional sharing and strengthened collaboration among public health agencies.
Outside specific achievements associated with program objectives, NPHII resulted in a focus on governmental public health infrastructure through well-trained, supportive leaders and staff members, and enhanced processes for planning and implementing QI and PM efforts. In addition, NPHII compelled awardees to move beyond the push and pull of categorical funding that unintentionally isolate health department functions and staff members.
Given the issues facing public health today, health departments must be adept at working across silos, engaging partners, leveraging resources, and using data to inform decisions. NPHII, through its focus on meeting national standards and improving efficiency and effectiveness, played a valuable role in strengthening our nation's public health system and preparing health departments for the challenges of the 21st century.
---
Learn More
Centers for Disease Control and Prevention. Advancing Public Health: The Story of the National Public Health Improvement Initiative. Atlanta, GA: US Department of Health and Human Services; 2017.
For more information or for queries about this compendium, please contact ostltsfeedback@cdc.gov.