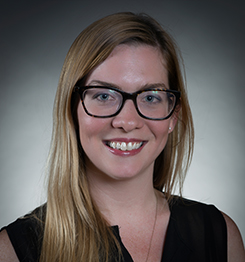 Program Manager
Laura Prechter, MS, Program Manager, works within NNPHI's Workforce, Training, and Education portfolio as the Program Manager for Workforce Development Capacity Building. In this position, Ms. Prechter supports NNPHI's role as the National Coordinating Center for the Public Health Learning Network. She also manages the Public Health Learning Navigator, as well as various online communities of practice/ networks. Previous work includes managing projects funded through NNPHI's cooperative agreement with the Centers for Disease Control. Additionally, Ms. Prechter served as Project Lead supporting NNPHI's role as a Technical Assistance Office for the Pipeline to Proposal (P2P) Awards, assisting the development of patient-centered outcomes research partnerships funded by the Patient Centered Outcomes Research Institute (PCORI). Before joining NNPHI, Ms. Prechter worked in the Office of Mayor Mitch Landrieu as part of the Mayor's Innovation Delivery Team, a department funded by Bloomberg Philanthropies to provide the city with the capacity and expertise to systematically innovate and develop solutions to top mayoral priorities. Prior to entering the Public Health field, Ms. Prechter worked in the arts at various galleries and museums.
Ms. Pretcher earned her MS in Nonprofit Management from the Milano School of International Affairs, Management, and Urban Policy and a BA in Art History from Tulane University.
Contact Laura at lprechter@nnphi.org.