2017 NNPHI Annual Conference Recap
Author

By: National Network of Public Health Institutes

Date
Since 2001, the NNPHI Annual conference has brought together public health professionals from around the country to learn new skills, grow their network and develop innovative ideas by supporting and highlighting the work of the nation's public health institutes. Last year's theme – Navigating Uncertainty, Spanning Boundaries, Improving Health – fostered conversations around moving public health practice and population health improvement during times of uncertainty. Major priority areas included the opioid crisis, healthy aging, child wellbeing, and more.
As we prepare for the 2018 annual conference, let's reminisce the good times from 2017.
2017 Keynote Speakers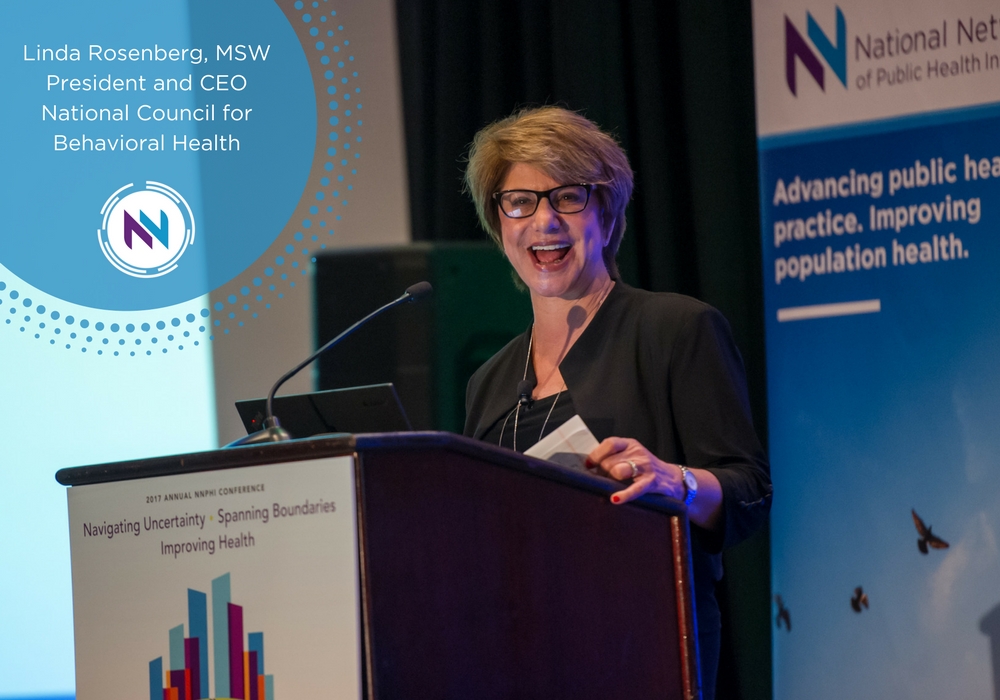 Linda Rosenberg, MSW, is the President and CEO of the National Council for Behavioral Health and is a national expert in the financing and delivery of mental health and substance abuse services. Linda talked about how as a country we are still debating whether health care is a right or a privilege.
Emily Holubowich, MPP, is the Senior Vice President at Cavarocchi Ruscio Dennis Associates (CRD), LLC, and serves as the Executive Director of the Coalition for Health Funding— an alliance of 100 national health organizations representing patients, health care providers, public health professionals, and scientists. Emily helped the group understand the federal budget process as well as discussed concerns around the ACHA
Snapshot of Events
Getting in Front of Substance Abuse and the Opioid Epidemic
This session looked at three institutes' approaches to tackling the opioid epidemic. The New Hampshire Community Health Institute demonstrated the Screening, Brief Intervention and Referral to Treatment (SBIRT) initiative, which focused on stopping substance misuse before it starts, and identifying early use before it escalates into addiction. Public Health Institute of Metropolitan Chicago discussed their collaboration with the Chicago Department of Public Health, the programmatic approach for addressing substance use disorders, specifically the opioid crisis in Chicago, and the opportunities and challenges encountered along the way. Lastly, Colorado Health Institute demonstrated how data can support conversations about behavioral health policy.
Practical Approaches for Addressing the Uncertainty Ahead
The dawn of the new presidential administration was a period of great uncertainty for the future of public health programs. In this session, Public Health Institutes provided up-to-date information and insider analysis on changes and their impact on public health. Public Health Institute of Metropolitan Chicago demonstrated how institutes can work with government partners to serve as backbone organizations to ensure there are no gaps in service to individuals at highest need. And the Association of Maternal & Child Health Programs shared insights into how they adapted key messages in such an environment to stress results, evidence, and state flexibility. Participants discussed specific strategies and solutions to navigating and thriving in the new and uncertain era.
Assessing the Current Needs of a Cross Sector Workforce
This workforce session, one of many workforce sessions, explored findings from a literature review of a national needs assessments, results from a state level assessment, and explored the efforts underway to assess the environmental health workforce. The National Coordinating Center for Public Health Training focused on the analytic findings and lessons learned from the synthesis of this evidence while the Western Region Public Health Training Center discussed findings on core competency skill levels, perceived training needs, and preferred formats for training. The National Environmental Health Association discussed the UNCOVER EH project in order to describe the environmental health workforce and its needs.
NNPHI Awards
For the first time ever, we opened up our awards program to include national partners and the public health community outside of the Network. The winners of these awards were: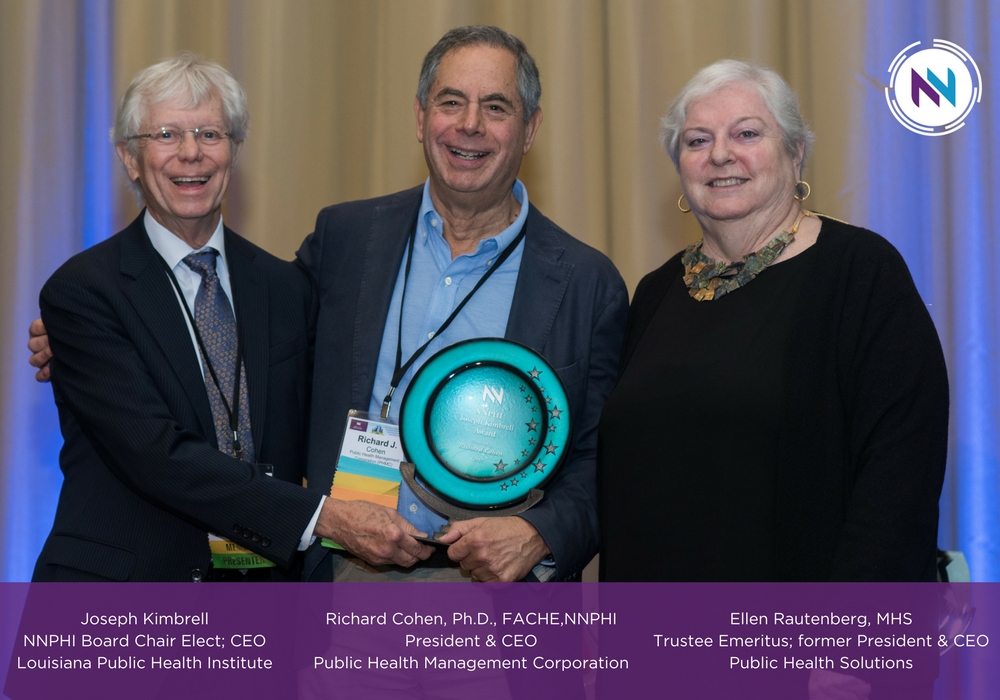 The conference also included a wide variety of other activities. These activities included receptions, dinners, our wellness challenge, morning yoga classes, and morning walks.
Community Event
The community event focused on the impact of community health workers (CHWs). Participants visited VIET, a site in New Orleans East that is engaging CHWs to educate, support civic engagement, and connect residents to resources in their neighborhood. This session also featured a panel presentation and interactive discussion with leaders in the CHW field, including public health institutes.
Wellness Challenge
Kansas Health Institute Staff took 1st and 2nd place for second year in a row. Tatiana Lin in first place and Lisa Jones in second place.
NNPHI 2017 provided learning and networking opportunities for our members and attendees. 2017 was the year of navigating uncertainty, spanning boundaries, and improving health by sharing ideas, resources, and knowledge to help each other meet a new era of challenges and opportunities. This year, building off of the ideas and concepts from last year we have even more exciting topics and presentations. Our keynote speaker for the Public Health Workforce Forum is the executive director of American Public Health Association, Georges C. Benjamin.
The keynote speakers for the Annual Conference are Risa Lavizzo – Mourey, the president emerita and former CEO of the Robert Wood Johnson Foundation and Laura Magana, the President and CEO of Association of Schools and Programs of Public Health (ASPPH). Some of the presentations to look out for include; working in rural communities, tackling the opioid epidemic, health equity advancement through housing, improving community mental health, and many more. Come prepared to network, have a good time, participate in the wellness challenge, and join us for the community event. Visit https://goo.gl/xzqBoN for more information on the 2018 Public Health Workforce Forum and Annual Conference.
By: Farahat Bello, Network Engagement Intern