Surprise Findings: Students Will Buy Healthy Foods at Concession Stands, Stabilizing Profits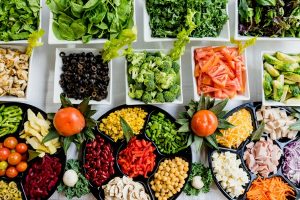 This blog post about healthy concession stands is the first in a series produced by the CDC's Prevention Research Centers (PRC) during the 2009 – 2014 funding cycle. The PRCs conducted research while developing the featured tools, and they have all been shown to be effective.
The PRCs are a network of 26 academic research centers across the U.S. that study how people and their communities can avoid or counter the risks for chronic illnesses such as heart disease, obesity, and cancer. They are located within the schools of public health or medical schools.
---
According to one study, sales of healthy foods at some concession stands made up more than 9% of total sales and demand increased game after game. At these locations, even students who said having healthy food wasn't important reported buying healthier items.
Based on feedback from parents, students and booster clubs, the University of Iowa's Prevention Research Center created the first free Concession Stand Toolkit to help schools and clubs improve nutrition at sporting events while keeping profits consistent.
School environments have been recognized as an important area for change in the fight against obesity. This toolkit is the result of a unique partnership between schools' parent booster groups and the university. The goal of the partnership was to engage community groups in making changes to concession stands while evaluating the effect of those changes on sales, profits, and consumer satisfaction. Using the toolkit is easy and fast.
Why should we care about what is served at concessions?
If someone wants a hot dog or a candy bar to watch the game, that is absolutely their choice. But, what about those watching their diets? What about parents of multiple children who are sitting through the third game in a row? What if the adult doesn't want her or his 4-year-old eating junk food? Sporting events often occur during meal times, leaving spectators without healthy meal options. These are all important reasons to provide healthier alternatives at concession stands. One more important reason:  Schools are striving to provide healthier foods and nutrition education during the school day.  What does it say to students when concession stands on school grounds have no healthy options?  Consistency matters.
Building evidence from scratch
Before developing the healthier concession program, there were no effective programs focused on school concessions. The center designed its program based on community input and best practices from a variety of fields. Once we had a pilot program prepared, it was tested for effectiveness and the results were very positive.
Profit on some healthy items higher than candy bars
Booster clubs are parent-led volunteer organizations that raise money for student organizations and sports teams. These clubs receive a substantial portion of their funding from concession sales. As a result, such groups resist changing concession stand offerings for fear of losing profits and decreasing customer satisfaction (including students).
'We know that cutting back on some of those traditional product groups is going to make revenue go down', said the executive director of the National Booster Club Training Council.
Sales results
Instead, the general concern that students and parents wouldn't want a concession stand makeover, and that it would result in lost sales, appears unfounded. Satisfaction remained stable or improved. Average revenue per varsity football game remained unchanged.
In a number of categories, sales of healthier items increased game after game, suggesting growing demand for healthier foods as customer awareness increased.
The most popular new item (chicken) had a profit margin equal to or better than all older items.
Six of eight new items had profit margins higher than candy bars
Modifications to popcorn and nachos increased their profit margin by 7.6%.
This pilot study shows two types of changes that can successfully improve the general healthfulness of concession foods:
Introducing a critical mass of eight healthier foods accounted for 9.2% of sales in this study.
Altering ingredients to eliminate the trans fat in the nacho cheese sauce and to switch from coconut oil to canola oil in the popcorn.
Students bought new and modified items, even though candy continued to dominate sales.
76% of students who thought having healthy food wasn't important reported buying the new items.
Student satisfaction remained high with no difference between the two years of the study. After the changes, students rated the variety and taste higher.
Students were very price sensitive for granola bars and trail mix, but not soft pretzels.
Students responded to the changes in the concession stand positively and the survey data suggests there is growing demand for healthy items.
---
Learn more
The University of Iowa, Prevention Research Center. Improving the Nutrition Environment Through Changing Concession Stand Options: Eight Steps to Making Healthy Improvements. The Eight Steps supports schools in adding healthy options to concessions at sporting events while maintaining profits. Use the toolkit to determine goals, choose probable changes, devise a purchasing plan, assess the profitability of changes, implement the plan, and keep track of set-backs and benefits of the changes.
Laroche HH, Ford C, Anderson K, Cai X, Just DR, Hanks AS, Wansink B. Concession Stand Makeovers: A Pilot Study of Offering Healthy Foods at High School Concession Stands. Journal of Public Health (Oxford). 2015;37(1):116-124.
Laroche HH, Hradek C, Hansen K, Hanks AS, Just DR, Wansink B. Healthy concessions: high school students' responses to healthy concession stand changes. The Journal of school health. In Press.