Students Help Public Health and Safety Leaders Address Opioid Overdose in Rural Washington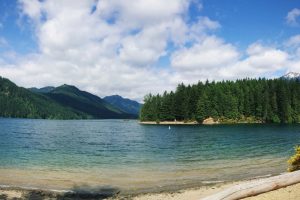 Mason County, Washington, sits nestled near the bottom of Puget Sound in the southeast corner of the state's Olympic Peninsula. It's a prime destination for fishing and water sports, and for catching glimpses of snow-capped peaks, but many people are experiencing hard times. Logging jobs dried up in the 1980s, and many residents still struggle with unemployment, accessing health care, and finding opportunities for their children. During 2011–2013, Mason County had the second largest increase in opioid-related deaths among counties in Washington State.
The dramatic rise in opioid overdose deaths has gripped Mason County and communities around the country, and captured headlines over the past few years. The landmark Surgeon General's report on addiction, released in November 2016, acknowledged this issue and called for more collaboration and a public health approach to the overlapping issues of mental health and substance misuse.
The Northwest Public Health Training Center at the University of Washington recently supported public health students Madeline Frost and Elly Riser in completing a project to help health and safety officials in Mason County address the rise in opioid-related deaths in their area. The hands-on experience supported both public health organizations and public health students in preparing future leaders to take part in the kinds of comprehensive efforts needed to address addiction and other complex problems. And the students' community work and final report allowed them to apply what they learned in class and better understand how the opioid crisis is impacting rural communities.
"This project was a valuable experience because it allowed us to better understand how multiple stakeholders interact on the same issue and how their perspectives compare," said Frost. "We gained more experience in several skills important to public health work, including working with multiple partners, developing research questions, planning and conducting data collection, and communicating what we found."
To address the overdose rate, Frost and Riser focused on expanding the county's use of naloxone, a lifesaving drug that reverses the effects of an overdose. Through interviews with public health leaders, clinicians, treatment providers, emergency response professionals, government officials, and injection drug users, they learned about the extent of opioid use and overdose in the community.
People also told them about the financial, geographical, and legal barriers to making naloxone more accessible and potential solutions to these barriers. For example, they discovered that paramedics around the county had been carrying naloxone for over 30 years and were the only emergency medical service providers allowed to do so. Some health and safety officials were gradually working to expand those privileges to emergency medical technicians, who are more numerous than paramedics, and law enforcement personnel, who are often first on the scene. Safety officials from the Squaxin Island Tribe, located within the county, were also beginning to develop policies for law enforcement officers to carry and administer naloxone.
Recognizing that medical and security professionals are not always available to assist, the students also investigated how "take-home naloxone" could be distributed through syringe exchange programs, pharmacies, and other organizations to allow friends and bystanders to help someone in distress.
"The interviews revealed existing but separate efforts underway to increase naloxone use throughout the county," said Frost. "We tried to bring attention to these efforts and promote collaboration between people working toward similar goals." To that end, their final report includes recommendations for this, such as promoting informational campaigns to spread awareness and reduce stigma, and better linking naloxone distribution with addiction treatment.
Dr. Diana Yu, the county's part-time health officer, advised Frost and Riser on their project, giving them important information about how opioid use was affecting the community. Until very recently, Mason County had not had a community-wide response to opioid overdoses, even though the problem had been around for some time.
With a focused scope and limited time, the student project addressed one specific and life-saving component of a broader vision that includes both prevention and treatment. As a health officer, Yu is particularly interested in the prevention side. Yu acknowledged that the raw number of overdose deaths is small. To her, an even more pressing issue is the number of people seeking drug treatment or being arrested with co-occurring mental health and substance use issues.
"Tackling the broader issues of substance misuse, not just deaths, would accomplish more to improve health, and would reduce the jail population," said Yu, noting the great need for more treatment and support services.
Yu's observation is supported by the Surgeon General's report, which also notes that greater numbers of people—millions in fact—misuse substances and become chemically dependent on them than die. To address this, the report underscores the need to bring addiction and mental health issues into the mainstream health care system for better management through screening, medications, and reimbursements, like other chronic diseases are managed. The report also calls for community mobilization, which they are working on in Mason County.
Dr. Yu has been a public health professional for 30 years and understands the importance of working in and with communities. "You can't come in and will something to be done," she said. "It's important for the community to own the problem and its solutions." Yu is confident the students' work is helping them do just that by better identifying community readiness to address issues of addiction, particularly the expanded use of naloxone.
At the end of the project, Frost and Riser's findings were reported to the county health department and distributed at an opioid forum to kick off new community-wide efforts. At the forum, participants created workgroups to align their efforts with the state's plan of addressing opioid misuse from multiple angles—prevention, treatment, overdose deaths, and better use of data. The students' findings lay the groundwork for the overdose workgroup.
The students' work is rippling through the community in other ways too. As a result of meeting with Frost and Riser, the emergency medical services director decided to help train the county's emergency medical technicians to administer and carry the lifesaving drug. He also trained some local police officers to administer naloxone. They began carrying it in July 2016, and as of December had already reversed three overdoses.
Yu knows these kinds of systems changes do not happen quickly. "The progress on every public health issue is one step forward, two steps back. It takes a lot of relationship building to move something slowly forward, so that's what we're doing," she said.
On working with students, Yu believes field placements and real-world projects are important for building leadership skills. "You can only learn so much from books and from reading protocols. There are twists and turns in the real world because people and issues are very complex," she said. "Once you get out in the field, there is no book to tell you exactly what to do." She encourages students to get training, but to "be prepared to create your own experience."
---