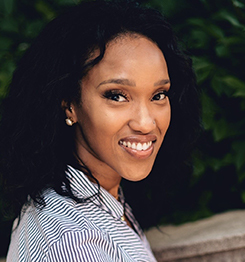 Senior Program Manager, Health Promotion
Washington, D.C.
bbunn@nnphi.org
Brittany Bunn is a Senior Program Manager, Health Promotion, at the National Network of Public Health Institutes (NNPHI). As a part of the Communications and Convening portfolio, she works across portfolios to develop and manage NNPHI-led programs, projects, and convenings of all sizes and ensure that they are implemented through a health-equity lens while building and maintaining high quality relationships with public health organizations and providing subject matter expertise in several areas relevant to public health.
With a passion for helping others and advocating for those whose voices have been unjustly silenced or negated, working in Public Health has allowed her to create systemic changes on a mainstream level through various projects and convenings. For her, it is important to change the narrative especially for the BIPOC community as through her work she sees herself, friends, family, and community. Her goal is to one day ensure that your zip code does not determine your future success or health.
Brittany holds a Master of Arts in International Security Studies from Trinity Washington University, Washington D.C., and B.A from Bennett College for Women in Greensboro, North Carolina. She is also a proud member of Alpha Kappa Alpha Sorority Incorporated, serves on the City of Bowie Diversity Committee, a veteran Reading Partner, and Chairs the Communication Committee for Junior League of Annapolis. Outside of her love of volunteering and health advocacy, she believes life is meant to be enjoyed whether with family, friends, pets, yoga, self-care, traveling or her personal favorite, fishing; you should always find time to do things that make you put your phone down.