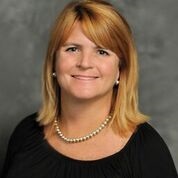 Senior Meeting Planner, Convenings
Atlanta, GA.
aerskine@nnphi.org
Amy Erskine is the Senior Meeting Planner of Convening at the National Network of Public Health Institute.  Her hospitality career of more than 20 years has allowed her to better understand and appreciate the importance of a strong, detailed work ethic and the role of the strategic meeting manager.
Amy believes the key to any successful event is teamwork and she values the vast knowledge base within the NNPHI organization.   The Convenings organized, planned and executed by NNPHI bring a wide variety of thought leaders and subject matter experts together to collaborate on important issues.
Before joining NNPHI, Amy was engaged in the Pharmaceutical Industry where she oversaw Marketing Agreements and Deliverables for Congresses. Over the years, she has honed her skill-set and fully-understands the importance of collaboration as well as what she considers to be an essential part of planning and execution of an event to be – which is teamwork.
In her free time, Amy enjoys painting, creating something from nothing, gardening and hanging out with her husband and their two dogs.  Amy graduated from Georgia State University with a degree in psychology and a minor in journalism.