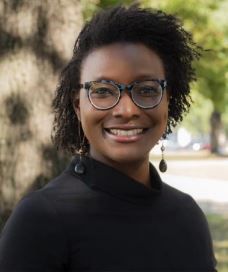 Chief Executive Officer of Louisiana Public Health Institute
Shelina Davis, MPH, MSW serves as the Chief Executive Officer of Louisiana Public Health Institute (LPHI) where she oversees the LPHI team and offers strategic direction to ensure health and racial equity; and champion health for people, within systems, and throughout communities. Shelina brings over 15 years of experience in public health, health care systems, leadership development, and health equity. Shelina serves on the Boards of the Albert Schweitzer Fellowship – New Orleans, Propeller and CARE: Companions and Animals for Reform and Equity. She was selected as Aspen Ideas Festival Health Scholar, Centers for Disease Control and Prevention Office on Smoking and Health Leadership and Sustainability School Fellow, and National Council for Behavioral Health Addressing Health Disparities Leadership Program Participant. In April 2020, Shelina served on Louisiana Governor John Bel Edwards' COVID-19 Health Equity Task Force, Louisiana Prisons Sub-Committee and Louisiana Resilient Commission, Manufacturers Sub-Committee to ensure the safety and well-being of all Louisianans during COVID-19. Currently, she serves on the Louisiana Office of Public Health's COVID-19 Vaccine Action Collaborative to support efforts to identify and define state-specific priority groups within the national guidance framework and prioritize the allocation of the initial doses of the COVID-19 vaccine.
Prior to joining LPHI, Shelina served as Assistant Vice President of Practice Improvement at the National Council for Behavioral Health based in Washington, DC, where she led the strategic oversight and development of public health initiatives — supporting community-based organizations as well as federal, state, local and tribal governmental agencies and their workforce in competencies in behavioral health as well as achieving health and racial equity.
Shelina holds dual-Masters in Public Health and Social Work from Tulane University Schools of Public Health and Tropical Medicine and Social Work; and a Bachelors of Science in Psychology from Xavier University of Louisiana.