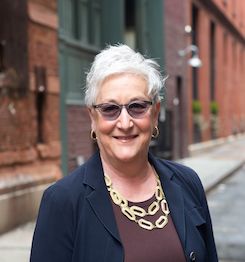 President and CEO, Public Health Solutions
Lisa David is the President and CEO of Public Health Solutions. She leads the organization to support vulnerable families in achieving optimal health and building pathways to reach their potential. Under Lisa's guidance, PHS improves health outcomes and helps underserved families thrive by providing services within communities that need them most, serving as a critical link in public-private partnerships with government agencies to support over 200 community-based organizations across the city, and conducting independent research to evaluate program impact.
Lisa has over 30 years of experience in the public health and healthcare sectors. Prior to joining PHS, she held positions as the Interim CEO of Medicines360, the EVP and COO of Planned Parenthood Federation of America, and the Vice Chair for Administration of the Department of Obstetrics and Gynecology at the Columbia School of Physicians and Surgeons. Lisa currently serves on the Health and Mental Health Advisory Committee for the New York City Department of Health and Mental Hygiene, the Policy Committee of the United Hospital Fund, and the Priority and Strategy Council of the Human Services Council. She also serves on the board of directors of Medicines360, the board of directors of the National Network of Public Health Institutes (NNPHI), and the board of trustees of the Women's Health Activist Movement Global (WHAMglobal).
Lisa holds a BS in Biology from Barnard College, and an MBA from The Wharton School.