About the Tribal Public Health Capacity Support Project (TPHC)
In 2018, NNPHI was awarded funding from the Centers for Disease Control and Prevention, Office of Tribal Alliances and Strategic Affairs (OTASA) to uphold the mission to affirm the government-to-government relationship between CDC and American Indian/Alaska Native (AI/AN) tribes by advancing connections, providing expertise, and increasing resources to improve tribal communities' public health. The purpose of the project is twofold:
To provide resources for Indian Country to optimize the quality and performance of tribal public health systems
To strengthen and improve the capacity of tribal public health systems to effectively respond to AI/AN public health challenges.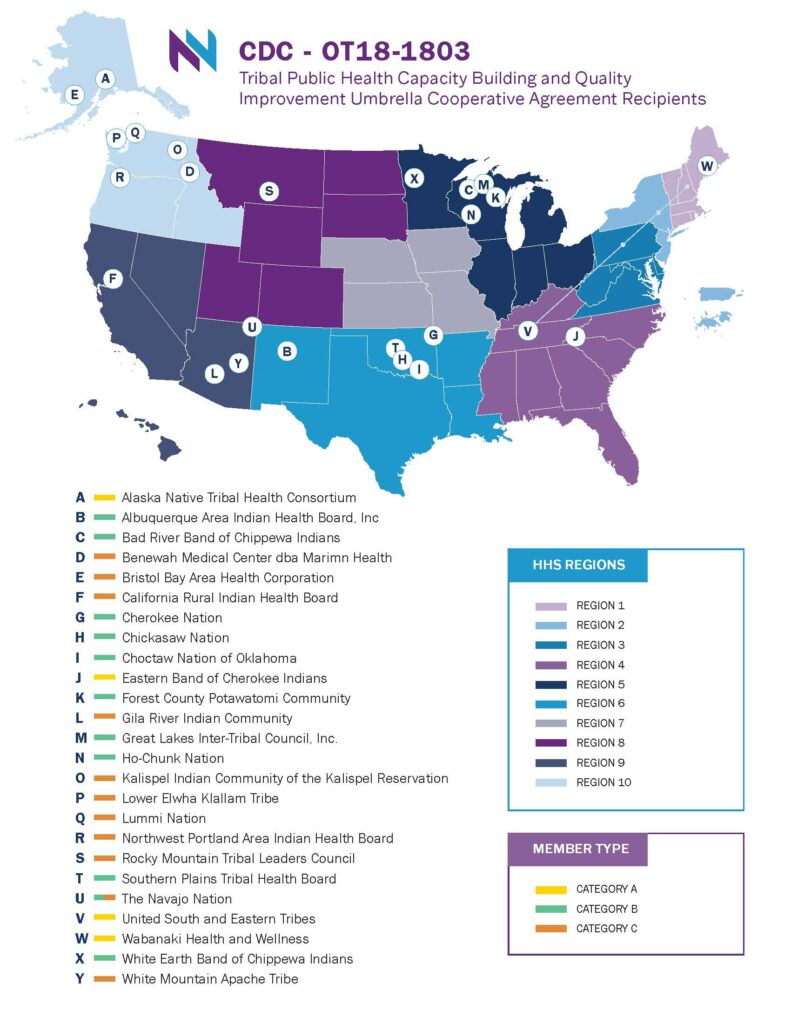 Our Work
NNPHI and Seven Directions, the first national public health institute dedicated Indigenous health and wellness, partnered together to provide technical and program support to the 25 Tribal Public Health Capacity and Quality Improvement Cooperative Agreement recipients. Housed within the University of Washington, Seven Directions is committed to cultivating and sharing knowledge, connecting communities and resources, and working to achieve shared goals for future generations. Seven Directions serves as a connector and collaborator across the Tribal and Urban Indian public health systems, which are comprised of local, regional, and national networks. These networks include Tribes and Urban Indian Health Organizations (UIHOs) (local level); Indian Health Boards/Inter Tribal Councils and Tribal Epidemiology Centers (regional level); and other national organizations serving Tribes, UIHOs and communities.
Our Approach
The first year of the project was primarily to support grantees in learning the details and requirements related to receiving federal funds. In the following years, Seven Directions launched an Indigenous Community of Practice called Gathering Grounds, which serves as a source of learning and networking among tribal organizations and 1803 recipients through hosting webinars and sharing resources; created a technical assistance program to provide support and assistance around multiple priority topic areas (e.g., quality improvement, communications); and helped NNPHI and CDC coordinate annual meetings for the recipient organizations.
Our Impact
The project continues to expand its reach while pivoting to face the ever-changing demands placed on tribal public health systems from COVID-19. Nevertheless, the following activities have been achieved:
Annual meeting for recipients, featuring key topic presentations, recipient presentations on current work and successes/challenges, and breakout discussions.
Gathering Grounds, which consists of a webinar series and other learning opportunities, and Seven Directions' event, Our Nations, Our Journeys.
Technical assistance available to recipients in the focus areas of data infrastructure, communications, accreditation, performance management/quality improvement and grant writing.
Mini-grants provided to recipients to increase the capacity of recipients to respond to public health emergencies.
Scholarships offered to recipient organizations to attend the the Public Health Improvement Training (PHIT)
Our Resources
This project is supported by the Centers for Disease Control and Prevention of the U.S. Department of Health and Human Services (HHS) as part of a financial assistance award (NOFO OT18-1802, titled Strengthening Public Health Systems and Services through National Partnerships to Improve and Protect the Nation's Health) totaling $250,000 with 100 percent funded by CDC/HHS. The contents are those of the author(s) and do not necessarily represent the official views of, nor an endorsement, by CDC/HHS, or the U.S. Government.