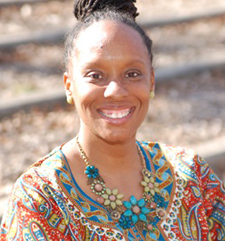 Action Learning Coach
Attica is an Action Learning Coach at County Health Rankings & Roadmaps, a collaboration of the Robert Wood Johnson Foundation and the University of Wisconsin Population Health Institute. Attica's role is to provide strategic guidance to communities who wish to put the County Health Rankings into action to improve health and advance equity. She is part of a team that develops online tools to connect communities to evidence-informed strategies and community change resources, fosters peer learning and connections, delivers knowledge and skill building sessions, and recognizes and celebrates health improvement.
Attica lives in Louisville where she was elected to serve as the State Representative for Kentucky House District 41. She has experience as an Adjunct Faculty member at Jefferson Community and Technical College and at Bellarmine University. She was an English immersion teacher in Taining County in Fujian Province, China in summer 2015. Attica served from 2004-2012 as the Coordinator of Kentucky Jobs with Justice. In 2013, she graduated from the Bingham Fellows Class of Leadership Louisville focusing on creating a smart food culture.
Attica is a regional Connector and West Louisville Connector with Leadership Louisville and was honored with the Ms. Foundation for Women 2011 "Woman of Vision" Award. She served as Co-Chair of the Criminal Justice Reform Committee of the Women's Network Commonwealth Policy Institute. Attica served on the Board of Directors of Building Hope Kentucky, Restorative Justice Louisville, Seven Counties Services (now Centerstone), La Casita Center, New Directions Housing Corporation, Women's Network Commonwealth Policy Institute, Shively Area Ministries, Looking for Lilith Theater Company, Louisville Affordable Housing Trust Fund, National Organizers Alliance, Hispanic-Latino Coalition of Louisville, and University of Kentucky Center for Labor Education and Research.
Attica holds an undergraduate degree in Political Science from Knoxville College (an HBCU) and a graduate degree in Communications from the University of Tennessee. She is a certified anti-racism trainer through Crossroads Ministry and the Commission on Religion in Appalachia. Her proudest accomplishment is being a mom to Advocate and Ashanti.
Contact Attica at attica.scott@chrr.wisc.edu.