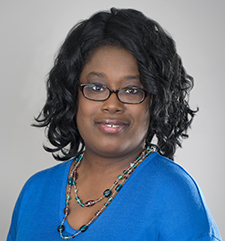 Action Learning Coach
Ericka Burroughs-Girardi, MA, MPH, is an Action Learning Coach at County Health Rankings & Roadmaps, a collaboration of the Robert Wood Johnson Foundation and the University of Wisconsin Population Health Institute (UWPHI). Her role is to provide strategic guidance to communities who wish to put the County Health Rankings into action to improve health and advance equity. She is part of a team that develops online tools to connect communities to evidence-informed strategies and community change resources, fosters peer learning and connections, delivers knowledge and skill building sessions, and recognizes and celebrates health improvement. As part of this work, she coordinates County Health Rankings and Roadmaps' webinar production process.
Ms. Burroughs-Girardi resides in Central Florida. She served as the Health Equity Coordinator for the Florida Department of Health in Orange County, where she led the effort to establish a focus on health equity in Central Florida, including the co-founding of the first food policy council and creation of the first award for health equity efforts in the region. She has coached community-based organizations, local governments, and community health planning groups in the principles of community engagement and collective impact, health policy advocacy, and health equity.
Ms. Burroughs-Girardi holds a Master of Arts in Applied Anthropology from the University of South Florida and a Master's in Public Health from the University of South Carolina.
Contact Ericka at ericka.burroughs-girardi@chrr.wisc.edu.