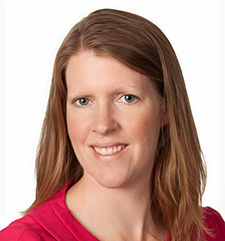 Community Coach
Ali is an Action Learning Coach at County Health Rankings & Roadmaps, a collaboration of the Robert Wood Johnson Foundation and the University of Wisconsin Population Health Institute. She is part of a team that develops online tools to connect communities to evidence-informed strategies and community change resources, fosters peer learning and connections, delivers knowledge and skill building sessions, and recognizes and celebrates health improvement.
She is an accomplished collaborator with a passion for supporting changemakers as they envision what is possible to transform their community. Her interest in working with communities began in Virginia's New River Valley. She worked as a Regional Planner for the New River Valley Planning District Commission where she had the opportunity to engage with many small towns and places. Following that, she served the YMCA at Virginia Tech as Executive Director, successfully leading programs that strengthened the university-community partnership and coordinating the work of community volunteers. Most recently, she worked for a community-based hospital foundation securing philanthropic support for strategic hospital initiatives.
Ali received a Bachelor of Arts in Public and Urban Affairs and a Master in Public and International Affairs from Virginia Tech.
Contact Ali Havrilla: aliana.havrilla@chrr.wisc.edu.