Welcome to the National Network of Public Health Institutes!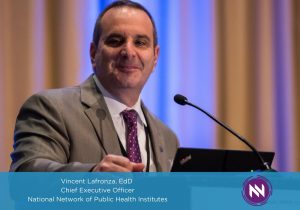 On behalf of the National Network of Public Health Institutes, I extend a warm welcome to our growing network. I am confident that you will find great value in our network's expanding portfolio of work to improve the public's health and well-being.
With offices in Washington, D.C. and New Orleans, and staff located in Atlanta, NNPHI is the official organization that represents more than 40 member public health institutes, affiliate members, and emerging institutes in over 30 states spanning all ten Department of Health and Human Services regions. NNPHI and its member institutes are nongovernmental organizations that implement public health policy and program initiatives throughout all 50 states. Additionally, our network offers public health programming in the U.S. territories and Indian Country. Together, our highly sophisticated network reflects more than $1.4 billion in annual funding and connects 8,000 subject matter experts with partners across the nation.
Public health institutes are non-profit organizations that work with a diverse range of multi-sector and multi-disciplinary partners that have a shared interest in creating conditions that lead to improved health. These partners include, but are not limited to, sectors of government, community organizations, healthcare systems, academia, media, philanthropy, and business. Together, institutes and their vast array of partners work to leverage strengths and assets using the principles and skills of collaborative leadership to improve the places where people live, work, worship, and play. Public health institutes address current and emerging health issues by providing competency-focused expertise in areas such as: fiscal/administrative management; population-based health programs; health policy; training and technical assistance; research and evaluation; health systems transformations; health information services; behavioral health; healthy aging; health equity, emergency preparedness and response; and health communications and social marketing.
I believe our NNPHI model offers significant value and that public health institutes will become even more vital contributors to our nation's evolving public health systems. We need strong public agencies at state/territorial, tribal, and local levels, and we should continue to support their work. The U.S. also needs a strong private, humanitarian sector to complement and expand public sector action. Working together, we can enhance the network and expand our reach to ensure the entire U.S. population is served by institutes and our strategic partners. Equally important will be our increasing reach across sectors and disciplines that produce health, influencing, experimenting, and adopting models that transcend disease-based frameworks and create the conditions in which all people can be healthy.
Like most fast-paced nonprofit organizations, we have much more activity underway beyond what we present herein and on our website. In the past five fiscal years, NNPHI has earned $48,422,317 in revenues and has made over $25 million in sub-awards to public health institutes, health departments, public health training centers, and other partners serving states, communities, tribes, and U.S. territories. I invite you to learn more about our work. Look for upcoming web improvements and consider attending one of our upcoming conferences. Please share your ideas with me and our vibrant NNPHI staff team. Let us know how NNPHI can best help your organization; we welcome your ideas on new partnerships for exploration.
Thank you again for your dedication to protecting and improving the public's health and well-being, and for your continued commitment to NNPHI. Together, we can achieve great things. Together, we can improve the health status of all who reside in this great country— improvements that can benefit all people, regardless of income, zip code, or any other socially constructed factor.
Finally, in the event that you find yourself in New Orleans or Washington, D.C., please visit with us; a pot of coffee will be brewing in either locale.
Sincerely yours in health,
Vincent Lafronza, Ed.D., M.S.
President and CEO