Absolutely Everything You Need to Know About the 2016 NNPHI Annual Conference Wellness Challenge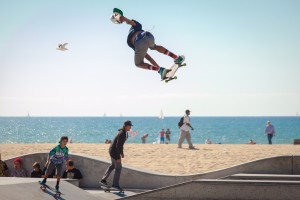 We're all so excited for #NNPHIac16! We're looking forward to seeing old friends, meeting new ones, and hearing from Cara McNulty, Head of Population Health at Target, and Alonzo Plough, Vice President of the Robert Wood Johnson Foundation's Research-Evaluation-Learning and Chief Science Officer.
On top of great speakers, carefully crafted presentations, discussions, and opportunities for dialogue within communities of practice, we have still more exciting news.
Ready?
Welcome to our first NNPHI Annual Conference Wellness Challenge!
The Wellness Challenge offers participants the chance to earn prizes while improving their physical, emotional and mental well-being. Participants can earn points through a variety of activities aimed at promoting the goal of wellness. We'll use points to determine three winners.
The Wellness Challenge will start at 6:30 AM CDT on May 17 and end at 11 AM CDT on May 19. There will be a variety of activities scheduled by NNPHI that participants can attend to earn points, as well as opportunities for participants to earn points on their own. NNPHI staff will keep track of the points earned by participants through their submissions on the Crowd Compass Conference App Activity Feed. NNPHI staff will announce the challenge winners at the end of the conference during the Creating New Business Across the Network with Box Lunch Session. Points will be used to determine winners.
Prizes
Winners will be announced at the closing conference session as well as the Top 5 (Members Only). Participants do not have to be present to win prizes, however the final standings will include all points earned through 11 AM CDT on May 19.
Grand Prize (1st place): GoPro HERO4 Silver Camera
Runner-up (2nd place): Fitbit Flex
3rd place: Picnic Pack
Registration and Eligibility
Registration is free. All conference attendees are eligible to participate in the wellness challenge, regardless of organizational affiliation.
Eligible Activities
The following is a list of point-eligible activities for the Wellness Challenge. Participants must post every activity that they engage in on the Crowd Compass Conference App – Activity Feed. Earn an extra point by including a photo in the post!
For Three (3) Points:
FITNESS – 30 minutes or more
Fast-paced guided walk* (May 18th, 6:30 am)
Morning yoga* (May 18th, 6:30 am)
Net-walking with NNPHI staff (May 18th, 5:30 – 6:15 pm)
Morning yoga* (May 19th, 6:30 am)
* Please add your name to the sign-up sheet at the registration desk for these activities. Sign-up must be complete before 6pm on the prior day.
NUTRITION
Drink at least 64 ounces water
SOCIAL
 Make a new connection – get to know someone new
MENTAL
Do something you enjoy outside of the conference
At least 8 hours of sleep
For Two (2) Points:
Take the stairs (less than 30 minutes)
Meditate (at least 10 minutes)
Use the hotel gym (at least 30 minutes)
Choose your own wellness activity
For One (1) Point:
Earn an extra point by submitting a photo with your post.
Submitting Points
In order to receive credit for points, participants must submit a brief description and/or picture of each wellness occurrence via the Crowd Compass App Activity Feed for each activity completed. Follow these four steps to submit activities:
Step 1: On the conference app homepage (Event Guide), click on the top left menu tab (three horizontal lines).
Step 2: Under the category My Items, click on Activity Feed. Make sure you are on the central tab in Activity Feed (i.e., "All Activity" should be highlighted).
Step 3: Click on the + sign in the top right corner, and then click on "Text" or "Photo" to create your submission.
Step 4: Write a brief description of your activity or upload a photo of your wellness activity, then hit "Post."
Participants are encouraged to submit activities/pictures as they accumulate points to allow standings to be updated regularly.
NNPHI will share the leading attendees 2 times per day.
All activities must be submitted by 11 AM CST on May 19 so that points earned throughout the challenge and winners can be announced in the closing conference session.
Tracking Points
NNPHI staff will release point totals throughout the conference (2 times per day). These standings will reflect the points that have been submitted, however they may not include all points earned by participants if they have not submitted them.
All points earned must be submitted by 11 AM CST on May 19.
Questions?
Contact Mahelet Kebede via the app feature "Networking with Attendees." Just click "attendees," search her name, and send her a message with your question. Alternatively, email Mahelet at mkebede@nnphi.org.