Convenings
Bringing people and organizations together to advance public health practice and improve population health.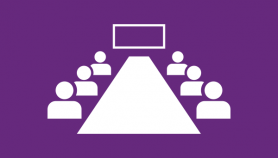 There is strength in numbers. For us, NNPHI convenings cultivate an inclusive best-in-class experience through learning, trainings, and networking while leveraging partnership, communities, subject-matter expertise and providing quality customer-service.
Our Work
NNPHI is committed to nurturing partnerships, connections, and communities of practice that improve population health. With access to a network of  over 8,000 subject matter experts, our Convenings Team offers a full suite of in-house services—from meeting programming and content development to logistics planning—all designed for professionals and partner organizations dedicated to improving population health.
Supported by the vast subject matter expertise of NNPHI's member institutes and staff members, our Convenings Team ensures that NNPHI meetings remain a gold standard for thoughtful meeting programming and content that makes an impact.
Learn more about NNPHI's in-house Convenings and Communities of Practice programs in our Related Programs section.
What You Can Expect: Our Services
Agenda, Program, and Content Development
Our team of specialists assembles and leads planning committees that identify meeting goals, target audiences, and priority topics. Afterward, we will develop an agenda of speakers in addition to content tailored for interactive learning, engagement, and participant collaboration during and after the convening.
Site Selection
Our team accesses a site sourcing network of more than 250,000 venues worldwide. We'll work closely with you to help you find the right venue, in the right location, for the right price. To protect and preserve your interests, we negotiate all venue contracts to include a customized addendum.
Site Selection Management
Our team will arrange site inspections as needed. We offer a site inspection checklist to assist you in the final selection process.
Contract Negotiations and Management
Based on criteria developed with your direction, NNPHI negotiates with the venue on your behalf to ensure the most competitive rates possible. Meanwhile, our custom contract addendum designed to protect and preserve our clients' interests.
Pre-Planning Logistics Services
Our services range from assisting you in monitoring and overseeing your program budget and coordinating with printers and graphic designers, as needed, to prepare your meeting material. Our team can consult regularly on meeting planning and provide periodic status updates.
We can also build and customize a registration website and phone application for your convenings. After we launch the site, our team manages registrants; we field questions, reconcile payments, and share meeting updates with them directly.
On-Site Meeting Support Services
To assure convenings and events that leave great impressions and advance your goals, our team stays onsite during your convening or event, from start—or before the official "start"—to finish. Depending on your needs, we can arrange all pre- and post- conference meetings, including off-site dinners, coordinate on-site surveys, greet and liaise with speakers and presenters, manage an on-site help desk, and much more.
Walking Our Talk: NNPHI's Healthy Meetings Policy

Reflecting our organizational values, NNPHI makes healthy choices regarding events and convenings attended by our employees, members, partners and participants. As a matter of policy, all of the convenings and events we sponsor and support will facilitate access to the healthiest foods, the most environmentally friendly practices, and completely smoke-free meeting areas.

As part of our regular procedures and practices, our convenings team serves healthier alternatives to standard meeting fare (including water instead of sugar-sweetened beverages and low-sodium, lower fat, and lower calorie foods), identifies restaurants and caterers who share our vision, and encourages physical activity as part of event programming.
NNPHI Annual Conference
Since 2001, the NNPHI Annual Conference is the only national meeting that supports and highlights the work of the nation's public health institutes. NNPHI members lead conference programming that explores fresh concepts and strategies for supporting healthy communities at the local, state, and federal levels.
Learn more about our signature event.
Contact Us
For more information, please contact the NNPHI Convenings Team at convenings@nnphi.org.