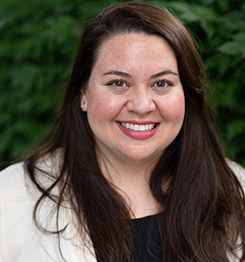 Associate Director, Programs and Special Projects
Durham, North Carolina
wmagendie@nnphi.org
Whitney Magendie, MPH, is the Associate Director of Programs and Special Projects at the National Network of Public Health Institutes (NNPHI). As part of the Bridging portfolio, she manages national public health projects on behavioral health, including opioid misuse prevention and tobacco control, with a particular interest in multi-sector collaboration to reduce health disparities.
Prior to her current role, Whitney worked in the field of women's global reproductive health and volunteered as a Louisiana state-certified HIV outreach testing volunteer. She is an advocate for reproductive justice and criminal justice reform, including efforts to end cash bail, and she is particularly passionate about exploring how these causes intersect with and impact public health. Whitney is committed to using her platform to advocate for health justice, and throughout her projects she seeks to utilize technologies, tools, and strategies designed to ensure equitable engagement for all stakeholders, not just the loudest voices in the room.
A native of Louisiana, Whitney holds an MPH in International Health from Tulane University's School of Public Health and Tropical Medicine in New Orleans, Louisiana and a B.A. with a Double Major in Political Science and Romance Languages from the University of North Carolina at Chapel Hill. She is a 2019 Fellow of the North Carolina chapter of the New Leaders Council and volunteers as a Hospital Responder for the Durham Crisis Response Center.
Contact Whitney at @WhitneyMagendie.