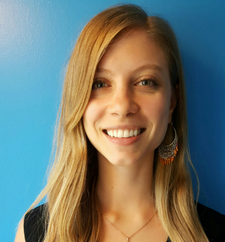 Program Assistant
Nicole Waller, MPH, is responsible for supporting efforts within the National Coordinating Center for Public Health Training Program as well as NNPHI's Training and Workforce Development and Performance Improvement Initiatives. Most of her experience has come from local non-profit community health work in Detroit and Southeast Michigan, and she has worked on multiple research projects at the University of Michigan School of Social Work. Ms. Waller also interned at the Corner Health Center, a health clinic for young people and their children. At the National Kidney Foundation of Michigan, she served as the Program Evaluator in the Early Childhood health department and her work there helped to increase the evidence base for the early childhood programs. Prior to her start in public health work, Ms. Waller received her undergraduate degree in Art. She has worked and volunteered in the scopes of local public health, non-profit community health, and research.
Ms. Waller graduated from the University of Michigan School of Public Health in 2014 with a Master's in Public Health in Health Behavior and Health Education.
Contact Nicole at nwaller@nnphi.org.