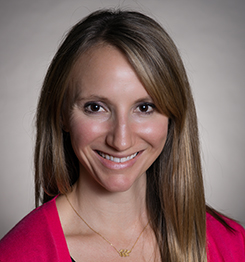 Senior Program Officer
Kelly Hughes, MPH, RD, CHES, serves as the Senior Program Officer and directs the Bridging Across Sectors for Health portfolio at NNPHI, leading multiple multi-sector initiatives that strengthen public health systems, structures, and outcomes. In this role, Ms. Hughes develops and advances high-quality standards of performance for effective launch, implementation, and closeout of programs. Based in Atlanta, GA, she serves as a liaison to the Centers for Disease Control and Prevention (CDC), providing operational and relational support for several cooperative agreements with CDC and managing several population health improvement programs (e.g., rural health, sodium reduction, school health, pandemic influenza, community health) with multi-sector partners.
Prior to joining NNPHI, Ms. Hughes supported policy and partnership efforts in CDC's Division of Community Health, through policy analysis, partnership engagement, budget formulation, issues management, community health investment tracking for DCH programs and awardees. Additionally, she is a graduate of CDC's Public Health Prevention Service (PHPS) fellowship, class of 2009. As a PHPS fellow, she completed a two-year field assignment in the Minnesota Department of Health, supporting overall implementation and management of the Statewide Health Improvement Program, as well as assignments with the Office of Global Health Affairs in the HHS Office of the Secretary in Washington, D.C. and with CDC's Office of Public Health Preparedness and Response in Atlanta.
Earlier in her career, she worked as a clinical dietitian and team lead at Mercy Regional Medical Center in Durango, Colorado as well as a research assistant for Dr. Karen Glanz, contributing to several research studies on the impact of built environments on population health.
Ms. Hughes has an MPH in Behavioral Sciences and Health Education from Emory University's Rollins School of Public Health and a BS degree in Dietetics from Virginia Polytechnic Institute and State University (Virginia Tech). She is a Registered Dietitian and Certified Health Education Specialist.
Contact Kelly at khughes@nnphi.org or @KHughes_NNPHI