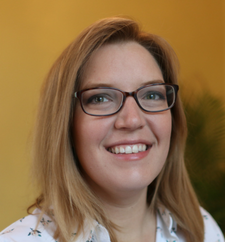 Program Manager, Research & Evaluation
Katherine Peak, MPH, serves as a Program Manager for NNPHI's Evidence to Action portfolio. She collaborates with staff, subject matter experts and national partners to advance NNPHI's research and evaluation efforts. Ms. Peak has five years of public health research and evaluation experience as well as a background in community-based program development and project management. Ms. Peak supported program development and provided training and technical assistance to multi-stakeholder research groups for the Patient Centered Outcomes Research Institute. Prior to joining NNPHI, she led a team conducting research on the potential impacts from the 2010 Deepwater Horizon Oil Spill. Ms. Peak formerly served as a community organizer and director of youth programs for a neighborhood center in New Orleans following Hurricane Katrina.
Ms. Peak earned her MPH from Louisiana State University Health Sciences Center, School of Public Health in 2012 and her BS in Psychology from the University of New Orleans in 2005.
Contact Katherine at kpeak@nnphi.org.