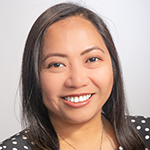 Research and Evaluation Program Manager, Evidence to Action
Washington, DC
icervantes@nnphi.org
Dr. Ivy Vitanzos Cervantes is a Research and Evaluation Program Manager for Evidence to Action (E2A) at the National Network of Public Health Institutes (NNPHI). In this role, she primarily provides management support to NNPHI's growing array of public health research and program evaluation projects. She also conducts data analysis and interpretation, helps develop grant proposals and reports, and works collaboratively with funders, partners, and project participants.
She began her public health career in the Philippines working on a wide range of issues, including understanding factors that affect environmental risks to health and access to reproductive health care. Prior to joining NNPHI, she worked for the University of New Mexico Prevention Research Center, where she was involved in research and evaluation projects focused on improving early childhood health, and the primary prevention of sexual violence and intimate partner violence. Dr. Vitanzos Cervantes has over 10 years combined experience in healthcare and public health in the Philippines and in the US.
Dr. Vitanzos Cervantes earned her Master of Public Health degree, with a focus in epidemiology, from the University of New Mexico in 2017. She also obtained her Doctor of Medicine and her BS in Basic Medical Sciences degrees from the University of the Philippines in 2009.