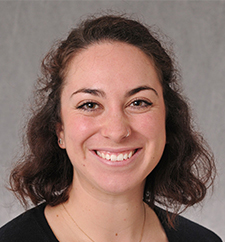 Senior Program Associate, Hurricane Response Hub
Isabella Kaser, MPH, serves as the Senior Program Associate for the Hurricane Response Hub and works within the National Network of Public Health Institute's (NNPHI) Emergency Preparedness, Response, and Recovery portfolio. In addition to supporting the Hurricane Response Hub initiative, Isabella supports the work to identify gaps in natural disaster-related mortality surveillance by providing training to death certifiers on how to properly code a death certificate and attribute it to a natural disaster. She also works with partners to strengthen community health centers' preparedness and response during pandemic influenza outbreaks.
Isabella's mission is to enhance preparedness and resilience in communities vulnerable to the negative implications brought on by climate change. She is interested in the role environmental health practitioners can play in developing climate policy decisions and hopes to continue working with communities to enhance resiliency regarding natural disaster and climatic events. Isabella's work at NNPHI is guided by improving health and well-being to create stronger and healthier communities through the address of climate change and environmental justice.
Prior to joining the NNPHI team, Isabella worked as a research assistant at George Washington University's Milken Institute School of Public Health, where she investigated how human behavior and institutions determine the address of climate change through researching the role public health has played in environmental lawsuits. Additionally, she has experience working in youth environmental education and has developed and implemented curriculum and resources to support climate change and air quality education in Washington, D.C. Isabella earned her MPH in Environmental Health Science and Policy from the George Washington University Milken Institute School of Public Health and her BA in Biology from Regis University.
Contact Isabella at ikaser@nnphi.org.