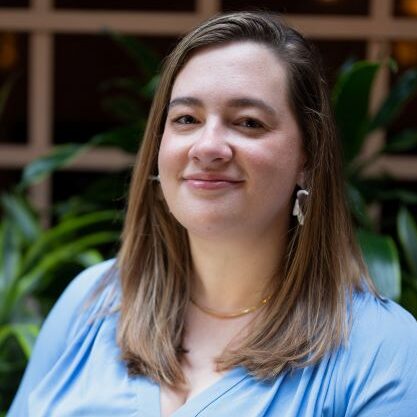 Program Manager, Evidence to Action
Atlanta, GA
ecostello@nnphi.org
Emily Costello, MPH, MSW is a Program Manager for Evidence to Action (E2A) at the National Network of Public Health Institutes (NNPHI). In this role, she provides project management on E2A's growing portfolio of public health projects related to research and evaluation, including adult vaccination and immunization uptake, public health workforce training, chronic disease management, older adult fall prevention, and adult drowning prevention.
Emily's public health interests first began in graduate school during her MSW program at Tulane University, where she also received her BA in Political science. Emily's MSW practicum with the Louisiana Public Health Institute provided her with the opportunity to work on projects relating to behavioral health integration in federally qualified health centers, sexual health curriculums in school settings, and tobacco prevention in communities, all of which emphasized the importance of social determinants of health, resilience, and innovative public health solutions. From here, Emily received her MPH from the Colorado School of Public Health, with a concentration in community and behavioral health sciences. During her time in Colorado. Emily worked with the Evaluation Center at CU Denver, the Colorado Department of Public Health & Environment, and Mental Health Colorado, primarily in a research and evaluation capacities.
Prior to her current role, Emily worked on state and local integration of overdose prevention and response efforts with the Georgia Department of Public Health and completed a fellowship with the CDC's Division of Overdose, where she provided evaluation support and technical assistance to jurisdictions across the country implementing overdose prevention and response strategies. With her background in both public health and social work, Emily is an advocate for equitable access to high quality healthcare for all, regardless of income, race, age, or other social factors that influence one's ability to thrive.