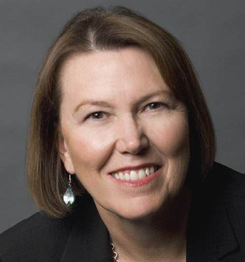 Chair; Chief Executive Officer, Public Health Institute
A nationally recognized leader in improving community health, addressing health inequities among vulnerable people and promoting quality of care, Ms. Pittman assumed the reins at the Public Health Institute (PHI) in 2008, becoming the organization's second president and CEO since its founding in 1964. Her primary focus has been guiding the development of a strategic plan that builds on existing PHI program strengths to achieve greater impact on public policy and practice in public health. "In a changing environment, strategic planning is an ongoing process, not an end product," she said. Ms. Pittman's overarching goal is for PHI to become known for leadership in creating healthier communities. To this end, PHI continues to work closely with the state on many programs, including the Supplemental Nutrition Assistance Program and the California Cancer Registry. What's more, she advocates that all PHI projects take the social determinants of health into account to better address health disparities and inequities.
Under Ms. Pittman's leadership, PHI has emphasized the integration of new technologies, creating Dialogue4Health.com, the online platform for conferencing and social networking that aims to build communities of interest for health. Other top priorities include: increasing advocacy for public policy and health reform, addressing health workforce shortages and the impacts of climate change on public health, and recognition of PHI as a preferred place to work. "I passionately believe that public health is an important component of health reform and has to have a stronger voice at the table," Ms. Pittman said. She strives for PHI's independent investigators to work together to achieve a synergy in which the sum of their contributions is greater than the whole.
Ms. Pittman has deep, varied and multi-sectoral experience in local public health, research, education, and hospitals. Before joining PHI she headed the Health Research and Educational Trust, a Chicago-based affiliate of the American Hospital Association, from 1993 to 2007. Previously, she was president and CEO of the California Association of Public Hospitals and a director of the San Francisco Department of Public Health. Ms. Pittman has authored numerous peer-reviewed articles in scientific journals and two books. She has served on the PHI board of directors since 1996 and serves on numerous other boards and committees, including the World Health Organization's Health Worker Migration Global Policy Advisory Council and the National Patient Safety Foundation's board of governors.